Posted
July 14, 2016 under
Blog
It's Zap Time (How to Actively Wait for your Breakthrough)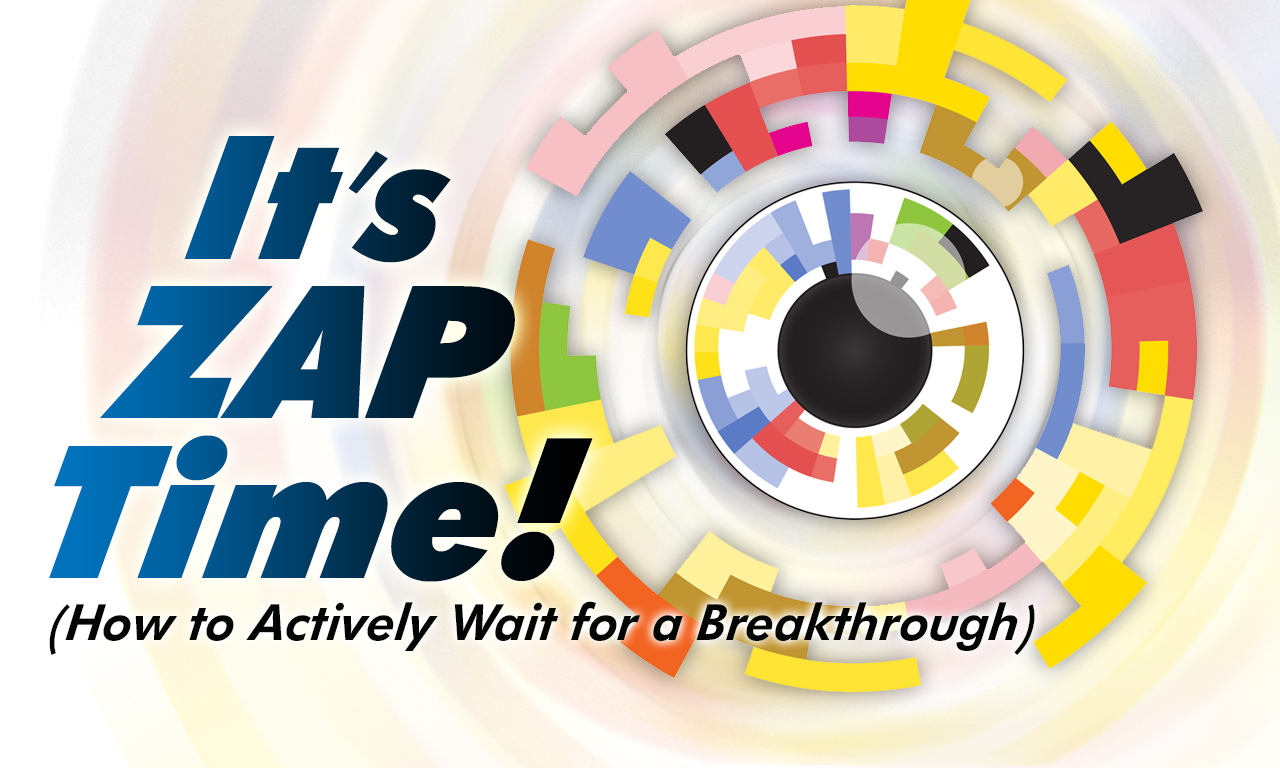 "In Lystra there sat a man who was lame.He had been that way from birth and had never walked..."
Acts 14:8
Do you have 20/20 vision? I don't. Joey just had an eye check up last week and he's got great eyes. I, on the other hand, grew up, a little schoolkid with thick glasses and braids, with grades reaching 600!
Imagine wearing a crumpled, old, plastic zip lock bag over your eyes 24/7. That is what the world looked like to me daily. When the teacher would write on the board, I had to guess if that was a zero (0), an eight (8), or a snowman. (But then, what would a snowman be doing in algebra class??No wonder I hate math. But I love snowmen. And art. And a good imagination.)
For years, I would endure hard contact lenses, and the searing pain that would come the following day when I accidentally would fall asleep still wearing them.
I would end up at a clinic in my university, the University of the Philippines, with both eyes all bandaged up, and complete with a sermon from the nurse.
Eventually, soft lenses were invented! Then LASIK came on the scene, and I finally had my eyes lasered and zapped.
Oh the joy I felt, seeing EVERYTHING with brand new eyes!! I saw Joey for the first time!?He was cute! (even if he didn't look like a snowman!)
I was so excited with my brand new vision, I woke Joey up one night, jumping up and down, because I could see the tiny red light of our airconditioner! "You woke me up to see that???" he said.
That's why this story of the man lame from birth, fascinates me.
"Lame from birth." Ever since the beginning of his life. Limited. Odds against him. Underprivileged. Disadvantaged. Deprived. Watching other people do things, that were humanly impossible for him to do.
Do you feel that way sometimes?
"My life is too complicated."
"If only I wasn't born in this situation/ family/ country..."
"Maybe, if this thing didn't happen to me..."
"I can't help it."
"I was born this way."
Let's read it again:
"Now at Lystra there was a man sitting who could not use his feet.He was crippled from birth and had never walked.He listened to Paul speaking.And Paul, looking intently at him and seeing that he had faith to be made well,said in a loud voice, Stand upright on your feet. And he sprang up and began walking. "
Acts 14: 8-10 ESV
I wondered, how many years did that man wait for his miracle?
I wondered how could his physical legs, unused all his life, and without muscle tone, could even carry his body weight...much less begin to walk?
How are logical outcomes defied? How does the impossible become possible? How can I overcome my struggles?
Then I read this again: "seeing that he had faith to be made well"
And that got me thinking...How do I get that kind of faith that zaps me back to life?
Three Things to ask myself:
Q. Where do my eyes and ears go?
This guy made the effort to focus and listen to Paul speak the words of God.
Whenever I spend too much time on the internet, my brain ends up getting cluttered by people's versions of their truth, or what seems right for them.
We allow daily news to drown out all the Good news. No wonder we're confused on what to believe in and can't sleep. But this guy was listening and absorbing Gods truth.
"I pray that your hearts will be flooded with light so that you can understand the confident hope he has given to those he called. "
Ephesians 1:8 NLT
Decide to read God's truth and standards first in the morning, so you have wisdom to know how to process someone else's words during the day.
Q. Who do I hang with? Who am I impacting?

Like it or not, your life is influencing someone else's. How are you impacting someone today??God wants you to fulfill your destiny. The devil wants to shipwreck your faith.
Do my friends build my faith up or tempt me in other ways? Do I do the same for them??How unfortunate if I used my influence to make someone fall into trouble!
Q. How do I really view God?
And without faith it is impossible to please God, because anyone who comes to Him must believe that He exists and that He rewards those who earnestly seek Him.
Hebrews 11:6
God exists. And God is a rewarder.

I must believe that truth, even when circumstances seem the exact opposite.
All around, the world tries to show God is either mythical, passive or apathetic to you. That He is weak, and our prayers are useless. Maybe we need God's words to LASIK our hearts, just as they zapped my eyes.
Nothing in all creation is hidden from God's sight; everything is uncovered and exposed before the eyes of Him to whom we must give account.
Hebrews 4:13
God says in Luke 1:37,"For no word from God will ever fail."
"I will lead the blind by a way they do not know, In paths they do not know I will guide them. I will make darkness into light before them and rugged places into plains. These are the things I will do, and I will not leave them undone."
Isaiah 42:16
Maybe, things don't happen in the way you expect. Maybe the answer is taking quite a while to wait. Maybe the process is part of His plan. But this truth remains:
God exists. He will reward only those who earnestly seek Him. That's a promise you can STAND ON. Just like that guy from Lystra.
He who rules by his might forever, whose eyes keep watch on the nations.
Let not the rebellious exalt themselves.
Psalm 66:7
0
Also in This Series: