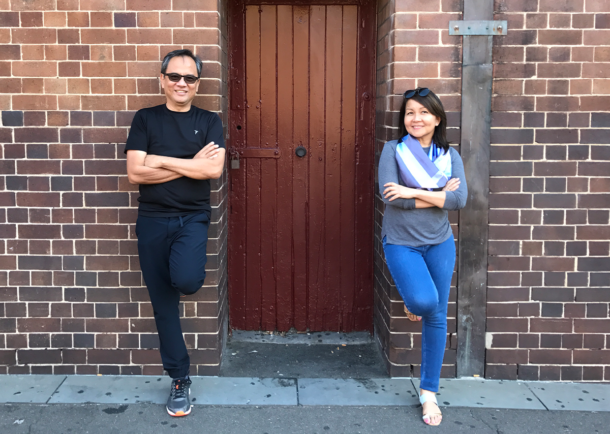 Howdy, I am Joey Bonifacio, husband, father, grandfather and pastor. I've been married over 35 years to my awesome wife Marie. We have three adult sons, all of whom are married, and we also have three grandsons. Can't wait to have more!
I love to influence people about Jesus, one of the ways I do that is by posting in my website. The theme of my website is to honor God and make disciples in every area of our lives.
With that in mind, you can expect . . .
On Sundays, a Preaching Podcast of my message that week with an accompanying Study Guide to help you grow as a disciple. You can also use the guide for small group meetings and help others in their discipleship journey.
On Tuesdays, a Quote on a Postcard that you can share with family and friends to get a conversation started about God and the Bible, His Word.
On Thursdays, a Blog Series you can read. Each post has a Personal Application Exercise you can do on your own or in a group discipleship setting. My wife, Marie, will also guest blog for me at times (She is really the better writer!).
I serve as the Senior Leader at Every Nation Church Singapore, and I also serve in the leadership team of Every Nation Ministries, a worldwide family of churches and ministries that exists to honor God by establishing Christ-centered, Spirit empowered, socially responsible churches and campus ministries in every nation.
I am an advocate of the Real Life Foundation and am a member of its Board of Trustees. Our mission as an NGO is To honor God by serving the poor and empowering their dreams through educational assistance, character development, and community service.
I am the author of the five published books: "The Promise No One Wants," "The Mystery of the Empty Stomach," "The One Lesson That Changed My Marriage," "The Values-Driven Heart," and "The LEGO Principle." You can read the first four books for FREE by clicking on the Book bar button. "The LEGO Principle was published by Charisma House and was featured in national magazines, radio and television segments in the United States. Unfortunately, I cannot give this book away for free but you can learn more about the book on this page."
You may download my official bio by clicking here.
You can connect with me via Email, Facebook, Instagram and Twitter. You will find all of these at the right bar of this page and on the Home page.
My website is built on WordPress 4.7 and is self-hosted. It is customized using the standard theme. Danny van Ommen is responsible for the web design while Manning Tan is the over-all creative designer and Zyrus Deri is responsible for the technical upkeep of the site. I highly recommend these men and would be glad to connect you with them upon request.
While my site offers visitors the ability to converse, I have a few ground rules so that our conversations will remain civil and courteous.
1. You must register in order to leave a comment. I don't entertain pseudo, anonymous or bogus individuals. This site is my home (it has a Home Page, get it). I don't let strangers who don't introduce themselves into my home.
2. I love questions. I love them because a lot of times they are similar to someone else's questions and can even trigger other questions from others. Questions also keep us all sharp. This is also why I respond to them as best as I can and at the soonest possible time. I believe that group answering benefits more people than private email exchanges.
3. We don't have to agree. Debates are welcome. However, whether it is with me or any other visitors of my site, my rule is this: disagree if you must but keep things civil. Thats just how I run my home, and you are a visitor here. No shouting; I have seen it done in writing. No cursing and no insulting.
4. I reserve the right to delete your comments. Like I said, this is my home. I do not have an obligation to publish your comments. As a human being, you may enjoy the freedom to express your opinions on your own site but not on mine. To be specific, I will delete your comments if you post content that is in my sole opinion: (a) snarky; (b) off-topic; (c) libelous, defamatory, abusive, harassing, threatening, profane, pornographic, offensive, false, misleading, or which otherwise violates or encourages others to violate my sense of decorum, civility or any law, including intellectual property laws; or (d) spam, i.e. an attempt to advertise, solicit, or otherwise promote goods and services. You may, however, post a link to your site or your most recent blog entry.
5. You retain ownership of your comments. I do not own them and I expressly disclaim any and all liability that may result from them. By commenting on my site, you agree that you retain all ownership rights in what you post here and that you will relieve me from any and all liability that may result from those posts.
6. You grant me the license to post your comments. This license is worldwide, irrevocable, non-exclusive, and royalty-free. By posting comments on my site, you automatically grant me the right to store, use, transmit, display, publish, reproduce, and distribute your comments in any format, including but not limited to a blog, in a book, video, or presentation.
In short, my goal is to host interesting conversations with caring, honest, and respectful people. I believe this clear and simple comments policy will facilitate this.
This website is a personal endeavor. The opinions expressed here are not that of the organizations that I am affiliated with. The information I offer here is on an as-is basis. I make no representations as to the accuracy, completeness, contemporariness or the validity of the information presented in this site. The site will also not be liable for any errors, omissions, or delays in the information it provides as well as any losses, injuries, or damages arising from its use.