Posted
July 3, 2014 under
Blog
Three Reasons Why Our Parents Deserve Honor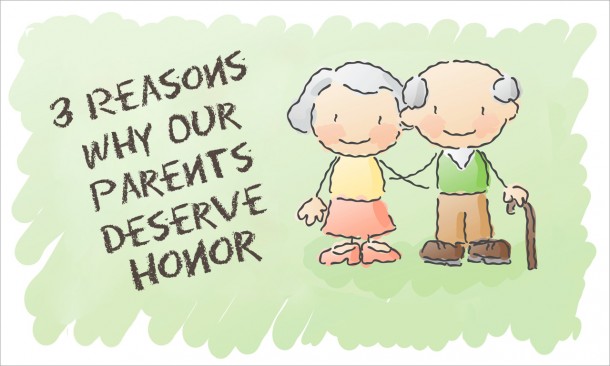 About two years ago Marie and I entertained the idea of moving my parents into our home. Needless to say the notion was daunting, but the Lord has a way of leading us into His will in ways that are good, pleasing and perfect, and earlier this year they moved in.
Yesterday, I saw my parents sleeping in the room that we had prepared for them, I was reminded of some of the reasons why our parents deserve honor.
1. They are heroes. To honor means to applaud. My parents were not perfect. However, I applaud them first of all for stepping up to the challenges, for even having a child like me. A big part of their lives was spent in making sure we enjoy a bright future. Parents deserve the applause of their children. Take the time to tell them how much you appreciate what they have done for you.
2. They are valuable. To honor means to value. Earlier this morning I saw my parents walking together. My mother clutching my father, making sure that he does not get lazy to exercise. It hit me, how valuable they have been in shaping much of who I am. Valuing our parents means taking what's valuable to you and spending it on them. That may be in the form of time, service, or money.
3. To obey the Lord. The Bible commands us to honor our father and our mother. It does not say: depending on whether they are honorable or not. It simply says applaud them and value them. The big news is, if we do, we are promised that we live long and all will go well with us.
I am grateful to God to have both of my parents still living. My father is turning 85 and my mother 84 this year. I am thankful that the Lord has spared them of any serious diseases.
I am just as grateful that the Lord has given me the opportunity to honor them. May our generation uphold the truth of God's Word and honor our fathers and our mothers.
0