Posted
March 12, 2014 under
Blog
Rekindle Your Lost Passion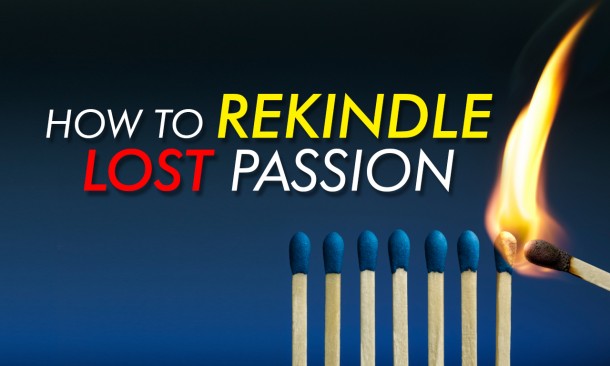 The dictionary defines "passion" as a very strong or compelling emotion towards something or someone." It also means the willingness to suffer for something or someone.  Sometimes we lose our fire and passion, here is a short article to help you find it.
MOSES @80
It's very hard to be passionate when you are 80!  For 4 decades, Moses lived in exile, haunted by a terrible past mistake.
That's a long time to hide. Most of his work were with non-humans. Mostly sheep, sheep, and more sheep.
So what did God do to rekindle Moses's passion? God reconnected Moses back to Himself. With a help of a burning bush God rekindled Moses' passion for living again.
Real Passion Comes From God
Don't be pressured to come up with your own passion, or run around chasing it. Passions that are self- conjured may look impressive, but you still feel empty in the long run.
Moses truly began to live ONLY when he got reconnected with the God of the Universe.
Moses started to connect to God. The more connected, the more excitement rushed through his veins.
The Lord revealed a plan so huge, so unbelievable, it was inconceivable by human means. Moses was going to inspire and save a nation at the age of 80!
"The Israelite cry for help has come to me, and I've seen for myself how cruelly they're being treated by the Egyptians. It's time for you to go back: I'm sending you to Pharaoh to bring my people, the People of Israel, out of Egypt."  Exodus 3:9-10
Where Do You Start
First, read God's word! Get connected to Him on a daily basis. He is your passion-giver. Maybe he'll give you a new dream, a new meaning in life. But first, He'll want to be your Number One passion.
Remember what the disciples said after Jesus' resurrection:
"They said to each other, "Didn't our hearts burn within us as he talked with us on the road and explained the Scriptures to us?" Luke 24:32
Answer this question and you are on your way back to a rekindled passion:  Is what I'm passionate about today, reconnecting me more to God or leading me away from Him?
I'd like to hear your thoughts on how to reconnect back to God. Better yet share you a story or an insight.
(This post was excerpted from a portion of one of my wife Marie's devotions, thanks Marie)
0