Posted
February 19, 2014 under
Blog
Pastor, an earthquake will hit Manila...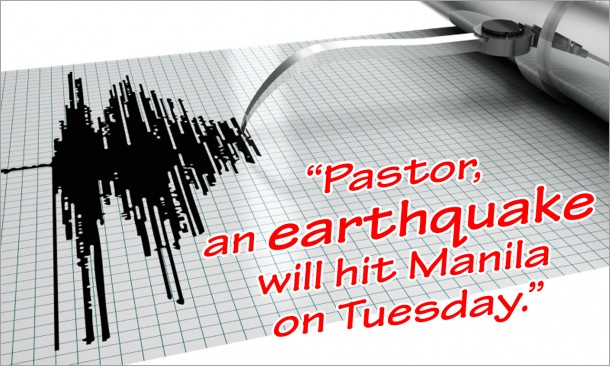 An excerpt from a note left by a man who arrived unannounced. Unable to wait for my visitor to leave he left a note saying a big earthquake was going to hit Manila in two days. He wanted me to warn the congregation to prevent the loss of many lives. That was three weeks ago.
Google earthquake predictions in Manila and you will find credible members of media and government both local and international with their fair share of predictions and "prophecies." Their conclusion, the big one is coming.
I decided against telling the congregation about the man's prediction. It would be irresponsible of me to say anything from the pulpit considering I had no idea who he was. He left a mobile number, when I called he did not pick up and sent a text message instead but  did not say anything but that he was in a meeting.
Here's how I responded to the note.
Faith versus Fear
That afternoon my son's were at my house and I showed them the man's note while simultaneously building their faith that God is in control.
I was encouraged by each of my son's response. No one asked if they could move with us for the day, considering all three lived in a high-rise condominium. They chose to live by faith and not in fear.
It may be true that a big earthquake is coming but we must not allow these predictions to cause us to live in fear. Whatever we face from beginning to end the righteous shall live by faith.
"...a righteousness that is by faith from first to last, just as it is written: "The righteous will live by faith." Romans 1:17
Prepare Others Who Are Not Ready
Notes like these serve to remind us the reality that death is inevitable. It can come in the form of an earthquake, a disease, a plane crash, or even a gunshot. The reality is, it is coming, for everyone.
The inevitability reinforces in me the need to share the Gospel to others. While we already have our ticket to eternity paid for by our Savior, the vast majority of people don't.
Don't be a doomsday prophet. The problem with that is we don't really know the day or the hour and when we make these unfounded predictions we lose credibility instead of gaining some.
Instead patiently engage your family and friends. I'm sure they have heard of this news in some shape and form.  Tell them the Good News of Salvation in Jesus, yup it is news, it has already happened, God has saved the world for all those who choose to live by faith in Christ.
Get Your House In Order
Finally, get your house in order. In the book of 2Kings, a story is told of King Hezekiah:
"In those days Hezekiah became ill and was at the point of death. The prophet Isaiah son of Amoz went to him and said, "This is what the LORD says: Put your house in order, because you are going to die; you will not recover." 2Kings 20:1
Hezekiah prayed and God extended his life to give him more time to get his house in order. What this means to us varies from person to person, but the message is clear get your house in order. In other words fix the things you can fix while you still have the time to do them.
Whether they are relational issues that need addressing, financial loose ends, or things that need special attention, take stock and get your house in order, whether the big bad earthquake comes or not you will have a house in order.
I would like to hear from you. How would you have responded if you received a note like the one I did?
0