Posted
February 1, 2018 under
Blog
Essential No. 2: Know Your Calling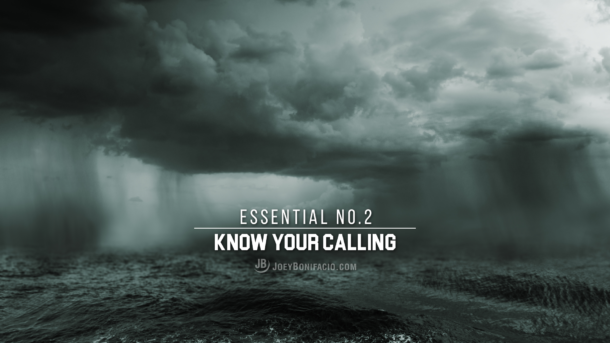 There is a strong connection between destiny, our topic last week and calling. Think of destiny as the big picture of where your life is taking you. And think of calling as the specifics of how to arrive at that destination.
When life's storms come or prolonged trials and suffering are upon us, knowing and understanding the destiny that God has for us with greater clarity encourages us to go on despite the present setback. That's why knowing your calling is important.
A calling is both general and specific. General in the sense that we are called by God to follow Him, love Him, and serve Him. While that's true, the specifics of our calling, how we follow, love, and serve God are unique to each one of us.
We are all called to families and even spiritual families, or churches but the specifics of our names, relations, objectives and practices are not quite the same, calling is both universal and unique.
Called By Name
"When Lamech had lived 182 years, he fathered a son and called his name Noah, saying, "Out of the ground that the LORD has cursed, this one shall bring us relief from our work and from the painful toil of our hands." Genesis 5:28-29
Here we find the essence of a calling that is both universal and unique. Noah was born and named like everyone else and yet there is a very specific reason for why he is on the earth. His calling is both general and specific.
We are all called by the name of the Lord, for we are all Christians, and yet each one of us is unique by the names we have been given.
Names are important for three reasons: to distinguish us from others, to define our life's purpose, and to be emulated. Let's unpack each one:
To Be Distinguished…
Imagine a world of clones where people all look alike and no one is distinguishable. Names define us and make us distinguishable. On the one hand we need to be distinguishable from the world since God has called us to Himself. We are to identify with our brothers and sisters in Christ. On the other hand we need to be distinguished from others for the specific thing we were created for.
Leaning too much on either side can be dangerous. When we are always concerned about being distinguishable and different we lose our sense of being a part. The extreme result is a wanting to celebrate our uniqueness to the point of being a celebrity, or borderline, narcissist.
When we don't know the specific side of our calling we lose opportunities, resources, and abilities that are unique to us. We are unable to develop them and maximize them for our benefit, and that of others. There's nothing wrong with either one, the key is to hold on to both sides of our calling: the universal and the unique.
For a purpose…
Our calling is not simply to be distinguishable, but to be so, for a purpose. A good way to understand this is to look at the purpose of a paper clip. A paper clip has a universal service that it provides, and that is to clip paper.
As general as that purpose or "calling" is, paper clips don't all clip the same thing. Some clip mundane things like bills and receipts, others clip teacher's notes, medical records, contracts, art sketches, or even engineering plans.
Once again we find the general and the specific. This is true of our calling, we are to be distinguished for a purpose that is as general as glorifying God in everything we do, but also as specific as the particular purpose God has created us for.
Prayer, meditating on His Word, and seeking counsel from people who have gone ahead of us can help us better define our purpose or calling. Generally speaking, we are called by God to be the greatest. By that He means, to serve. He did say that the greatest among you shall be the servant.
When we start from this premise we will be able to find our universal and unique calling.
To be emulated…
A final thing to understand about calling is that it usually comes from without and not from within. Think about it, the very nature of a call is that someone is calling you, when was the last time you called yourself? That's weird!
God calls us to follow Him and serve Him. We are called to families and we have no choice on the matter. We are called to nations and churches, not by our choosing, but by a calling from God.
This is true of our calling whether universal or unique, God calls us and He usually uses others for us to receive that call. Our calling will always involve others. Our calling sets us to families and communities. These days people go after their so-called life's calling to be celebrated and to be famous or infamous. Our calling is meant to be fulfilled in families and communities so that our lives can be distinguished from the world and emulated by the generations following after us.
This is the rationale behind why rulers of old named their successors, the first, second and the third, as in King George IV. It was their way of being distinguishable as a servant of people (supposedly). The goal was to emulate the good things the previous ruler did. At the same time his name is distinguished for the unique time, season and purpose he finds himself in. To be emulated as well by succeeding generations.
Knowing our calling is valuable when tough times come. When you know you have been called by no less than God to a distinguished purpose that is both universal and unique, we are able to stay the course in the midst of storms.
And this is how Noah lasted in the storm and the reason why he is so distinguished many generations later.
10562