Posted
January 18, 2018 under
Blog
The Man Who Weathered History's Worst Storm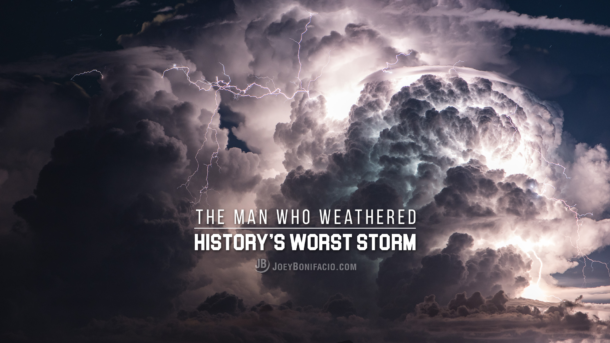 This is the first in a series of blogs that talks of a man who has prepared for, endured, and survived not just a really bad storm, but history's worst ever.
Of Earthquakes and Tropical Cyclones
I was born, raised, and lived most of my life in the Philippines. Our beautiful nation is blessed with some of the most dazzling islands on the planet. All that beauty comes at a price. The islands are laden with volcanoes. And a number of them are still active. That also means we often experience earthquakes in varying degrees.
On June 15, 1991, Mt. Pinatubo, a volcano that sits 91 kilometers northwest of Manila erupted. It was recorded as the second-largest terrestrial eruption of the 20th century, upstaged only by the 1912 Novarupta eruption in the Alaska Peninsula.
With it came a 7.8 magnitude earthquake, that's about the intensity of the 1906 San Francisco tremor. Thankfully only 350 died but the human suffering and damage to property were massive.
Apart from earthquakes, the Philippines is also visited by no less than twenty tropical cyclones annually, around five of which are destructive. One recent visitor was Tropical Storm Haiyan, a super-typhoon.
So enormous was the flooding that one island was 80% underwater. Packing winds of up to 370 kilometers per hour, thousands died and thousands more remained missing. To imagine the extent of the damage to property, some of the provinces that were hit took years to recover.
Making Sense of Storms and Floods
This series of posts, however, is not about me or of my countrymen, but is about a man and his family, and how he weathered history's worst storm. I am referring to Noah and the cataclysmic flood he found himself in.
Having lived through storms all my life, I feel an affinity to the story of Noah. My hope is that this series of posts will help you weather the storms in your life, not if they come, but when they come.
To be clear, however, this is not about meteorology or seismology, but about the reality of life's challenges and how we can storm-proof our lives. I'm excited to share with you what I have grown to call the 10 Essentials to a Storm-Proof Life.
God is our refuge and strength,
a very present[b] help in trouble.
Therefore we will not fear though the earth gives way,
though the mountains be moved into the heart of the sea,
Psalm 46:1-2, ESV
Then they cried to the LORD in their trouble,
and he delivered them from their distress.
Psalm 107:28, ESV
The Bible is filled with verses like these that remind us of God's faithfulness and power to deliver us from the storms in our life. And yet, God has left us with an amazing story of how a man and his family walked with God and believed in Him, and in the end, they were saved.
Can't wait to unpack this for you in greater detail. Until next week.
9595