Posted
January 11, 2018 under
Blog
What Kind of Hope Will You Need in 2018?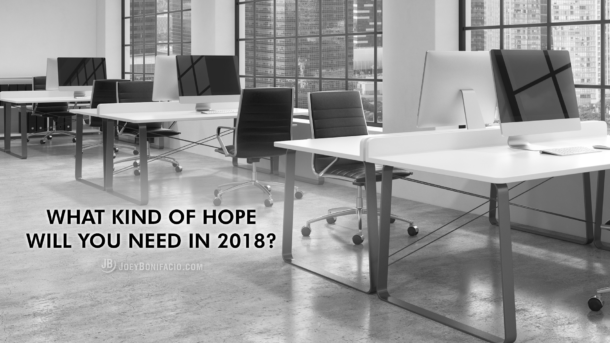 This is the second in a series of three blog posts that I pray would help you as you pray and fast for 2018.
In my last post I wrote about the significance and importance of hope. As I have pointed out, no one can survive going through life without hope. Even women who wear make-up and use anti-aging creams are in effect hoping with every dab.
There certainly is a validity to have hope in our jobs, connections, talents, and experiences, however, one must realize that this is not the hope that the Bible is talking about. In fact the Bible goes as far as saying that there is such a thing as false hope: "The war horse is a false hope for salvation, and by its great might it cannot rescue." Psalm 33:17. It's message is crisp and clear, false hope cannot rescue us.
Still, many will trust in false hopes. Just look at the number of people who buy Lotto tickets and continue to do so.
Enduring Hope
Enduring hope or the kind that lasts is described in the verses that preceded Hebrews 6:19. Here they are:
"So when God desired to show more convincingly to the heirs of the promise the unchangeable character of his purpose, he guaranteed it with an oath, so that by two unchangeable things, in which lit is impossible for God to lie, we who have fled for refuge might have strong encouragement to hold fast to the hope set before us." Hebrews 6:17-18
False hope is not trustworthy and will fail us. It is vain as it has little basis and legs to stand on. The verse above speaks of an enduring hope that is strong and encouraging. It is the hope that the Lord sets before us.
What exactly is Enduring hope?
Hope that endures is rooted in and guaranteed by two unchangeable things mentioned in the verse above, God's unchangeable character and His unchangeable oath.
It is these two unchangeable things that constitute the verse that follows: "We have this as a sure and steadfast anchor of the soul, a hope that enters into the inner place behind the curtain, where Jesus has gone as a forerunner on our behalf, having become a high priest forever after the order of Melchizedek." Hebrews 6:19-20
God's character is resolute, firm, unswerving, he is not threatened by anyone or anything. He is unfaltering and is dependable. His word or oath is equally trustworthy. You can bet your life on it.
His Character and His Word
Enduring hope is rooted in God's character: Hope that is based on God's character is trustworthy because, "God is not man, that he should lie, or a son of man, that he should change his mind. Has he said, and will he not do it? Or has he spoken, and will he not fulfill it?" Numbers 23:19
Enduring hope is not just rooted in His character but on His Word, the Bible: "…whatever was written in former days was written for our instruction, that through endurance and through the encouragement of the Scriptures we might have hope." Romans 15:4
This 2018, put your hope on the enduring and trustworthy character and word of God. And as you do, watch how this anchor for your soul keeps on a firm, sure, and secure place of rest.
11972