Posted
January 25, 2018 under
Blog
Essential No. 1: Know Your Destiny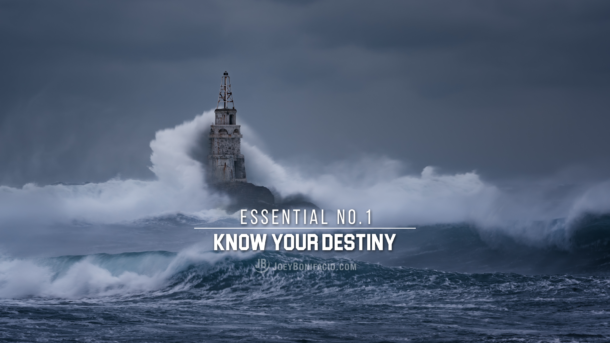 Noah's story starts out in chapter 5 of Genesis.
When Lamech had lived 182 years, he fathered a son and called his name, Noah, saying, "Out of the ground that the LORD has cursed, this one shall bring us relief from our work and from the painful toil of our hands." (Genesis 5:28-29 ESV)
From the very beginning, Noah was a man of destiny. On his birth, his father had proclaimed that he would bring relief from the curse that was brought upon mankind by the sin of Adam and Eve, that of an unproductive, unfulfilling, and painful life as they tilled the ground.
More significantly, Enoch was his grandfather, one of the Bible's first prophets. He prophesied about history's worst storm, even before his father made his declaration.
The Prophecy of Enoch
Enoch is known as the "man who walked with God." The account of his walk with God is brief. It is mentioned in two verses in Hebrews 11, and it is a mere four verses in Genesis 5. And all it says is that he walked with God and then God took him away.
There is however, another place in scripture where he is mentioned:
"It was also about these that Enoch, the seventh from Adam, prophesied, saying, 'Behold, the Lord comes with ten thousands of his holy ones, to execute judgment on all and to convict all the ungodly of all their deeds of ungodliness that they have committed in such an ungodly way, and of all the harsh things that ungodly sinners have spoken against him.'" Jude 14-15 ESV
The verses above clearly tells us that Enoch was a prophet and that he is the same Enoch in Genesis 5, the seventh from Adam. It also tells us what his prophecy was about: the judgment that was about to come. But we don't have any record of him pronouncing the prophecy in Genesis, or don't we?
The Book of Amos tells us that God does nothing without revealing His secrets to His servants, the prophets (Amos 3:7-8). So what exactly did He reveal to Enoch, His prophet? And how did Enoch prophesy what was revealed to him? And where is his prophecy recorded in the Old Testament?
Prophetic Names and Dates
"When Enoch had lived 65 years, he fathered Methuselah." Genesis 5:21
Enoch prophesied by naming his son Methuselah. His name meant "man of the dart or spear." Alternatively, it means, "when he dies, judgment shall come."
Enoch knew by the Spirit of God that the world would increasingly become more wicked and violent. Thus, he said that when his son Methuselah dies, the judgment of God shall come.
Genesis 5:25 says, "When Methuselah had lived 187 years, he fathered Lamech." Genesis 5:28-29a says, "When Lamech had lived 182 years, he fathered a son, and called his name Noah."
Notice, that when you add the two figures mentioned: 187 years and 182 years, you get the total of 369 years. Genesis 7:11, says that on the 600th year of Noah's life the floods came. Thus, if you add 369 years plus 600 years, you get the number 969. It was 969 years after Methuselah was born when the floods came.
Enoch's prophecy came to pass, Genesis 5:27 says, "Thus all the days of Methuselah were 969 years, and he died." On the day Methuselah died, the judgment of God came.
Destiny
Noah's story is the story of a man of destiny. By a word of prophecy from his grandfather, history's worst storm would come, and by a declaration of his father, he would be a man to bring relief to his family.
This is the starting point to a stormproof life: to know that we are people of destiny, chosen by God for His royal purposes, to proclaim His goodness and glory, as He has called us into His marvelous light.
But you are a chosen race, a royal priesthood, a holy nation, a people for his own possession, that you may proclaim the excellencies of him who called you out of darkness into his marvelous light.
1 Peter 2:9, ESV
A people of destiny know that they were made for a purpose, this is how they endure both good times and bad times, in stormy weather or favorable times. Storm-proof your life by knowing you are person of destiny.
9393