Posted
December 21, 2017 under
Blog
His Season: Jesus Christ, Prince of Peace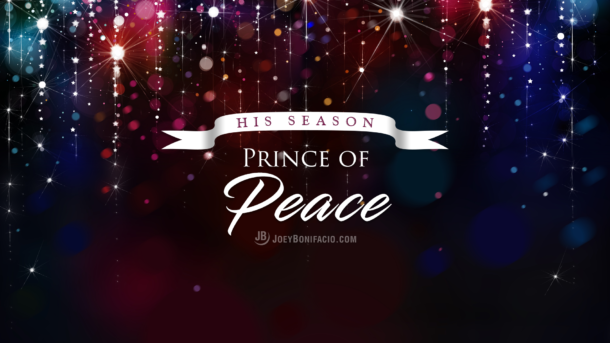 As jokes portray, world peace is a term heard in beauty pageants. As future beauty queens queue in and answer a question from the judges, world peace would come up as an aspiration that would garner applause from the audience.
But as of late, and as our realities today show, world peace has only become more and more elusive. Terrorism, the rise of sectarian violence, the threat of wars, and even the indecency of words pervading our society has all caused disturbance—an utter lack of peace. Our preoccupation with cell phones and social media, and our materialism have also caused lack of peace within ourselves—distracted by many things and events begging for our attention.
God desires for us to have peace. He longs to give it to us. In Isaiah 9:6, it shows that His Son Jesus, who came down to earth as man to save you and me from eternal destruction, is the Prince of Peace.
A God who initiated peace with us
An exemplary and powerful idea that we need to understand here, is that God Himself came down to earth as man, Jesus Christ, and wanted to make peace with us because our sins have separated us from Him and has deprived us of the fullness of His love and the peace that transcends all understanding.
But out of His love for you and for me, despite our sinfulness, God wanted to make peace. He reached out to us, and was resolved in snatching us from the fire so we can be in fellowship with Him again (see Jude 1:23).
The basis of our peace and the origin of it, is not because of our own meditations or even will to be calm, quiet, and still. But it is due to God's unfailing and unconditional love for you and for me.
When we were at our worst, at our most sinful, deserving death and punishment, God showed us a way to have peace through His Son Jesus.
Peace is not something we nurture within, or can attain through our own actions, but can be received as a something from God.
Righteousness and peace
In order for us to have peace in a world that lacks such, we need to obey God and walk in His truth.
Psalm 85:10 in the New International Version reads:
"Love and faithfulness meet together; righteousness and peace kiss each other."
When we follow God's commands. When we choose to abide in Him and live a life that is righteous—then we attain peace.
And as Romans 3:22 reveals to us, we are made righteous when we live by faith.
God designed peace to rule and reign in our hearts and this starts when we respond to His initiation of peace—accepting Jesus Christ into our lives, and living by faith.
Acknowledging Jesus as Lord and living by faith mean also means living in obedience and in accordance to His will. And we please God when we follow His will.
Pleasing God results in not only having and being at peace with ourselves but also peace with others. As promised in Proverbs 16:7, New Living Translation:
"When people's lives please the LORD, even their enemies are at peace with them."
Galatians 2:20, in the New International Version, shows us what happens when we confess and turn away from a life of sin, die to ourselves, and be born again by accepting Jesus Christ as Lord and Savior:
"I have been crucified with Christ and I no longer live, but Christ lives in me. The life I now live in the body, I live by faith in the Son of God, who loved me and gave himself for me."
What a powerful thought then that the Christ who lives in us is the King of Kings and the Lord of Lords, the ultimate authority and the very definition of peace.
195