Posted
November 30, 2017 under
Blog
His Season: Jesus Christ, The Wonderful Counselor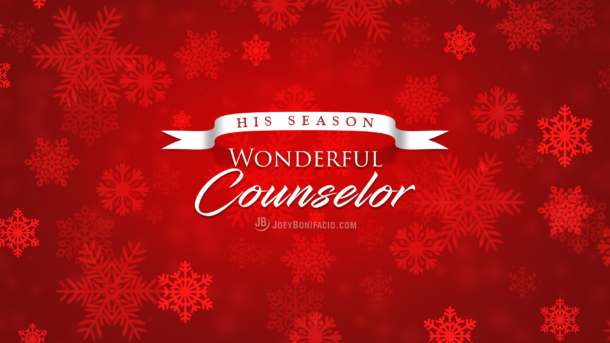 Kingdoms can rise and fall because of bad advice.
In 1 Kings 12, we learn of a king named Rehoboam who rejected the counsel of the elders and instead listened to his "yes" men. In verses 8-18 of the chapter, it described the consequence of him following bad advice. One of his officials were murdered and he had to escape to Jerusalem because his people rebelled against him.
The book of Proverbs, written by King Solomon whom God has bestowed enormous wisdom upon, wrote the following on the importance of counsel.
Where there is no guidance, a people falls, but in an abundance of counselors there is safety. Proverbs 11:14, ESV
Listen to advice and accept instruction, that you may gain wisdom in the future. Many are the plans in the mind of a man, but it is the purpose of the Lord that will stand. Proverbs 19:20-21, ESV
For by wise guidance you can wage your war, and in abundance of counselors there is victory. Proverbs 24:6, ESV
Indeed, there is power when we tap into other people's wisdom; when we listen to good counselors.
Life is filled with decisions
The significance and importance of counsel stem from the fact that we make a lot of decisions every day.
According to some studies, we make up to 35,000 decisions in a day, 226 on food!
And there are times that important decisions require advice. The source of this advice could influence the way we live, and thus, it's critical that we qualify who we listen to.
Who do you listen to?
I submit to you that the right counselor is someone who loves us, is concerned of us, and who knows us best. Someone who will willingly tell us what we need to hear and not what we want to hear.
He or she must be an individual or person who's deeply interested in our behalf and wants to see us fulfill our purpose in life.
What an assurance then that in Isaiah 9:6 it says:
For to us a child is born,
to us a son is given,
and the government will be on his shoulders.
And he will be called
Wonderful Counselor, Mighty God,
Everlasting Father, Prince of Peace.
As we look forward to and celebrate the holidays, we are reminded that more than 2,000 years ago, in a manger in Bethlehem was born the King of Kings and the Lord of Lords. He is the Lord and Savior whom God sent to save you and me.
Jesus Christ, the very reason for this holiday season is the Wonderful Counselor. He knows us, loves us, cares for us, and is concerned of us.
Not only is He King, Lord, and Ruler, He is our guide and our light.
Welcome in your hearts, the Wonderful Counselor
Jesus knows our past, our today, and our future. And no matter what you have gone through or going through He is there—to guide, to counsel, and to lead you on the right path. As we put our faith in Him by accepting Him as Lord and Savior of our lives, we receive the blessing of forgiveness and are restored to a relationship with God.
His presence in our hearts and minds gives us access to Him and allows us to tap into His wisdom through the Holy Spirit.
One of the Hebrew translation of the world wonderful is the word extraordinary. It refers to something that is beyond common thinking, what's typical, and what's usual.
In our lives, there are times where we feel we're in a dead-end, where challenges and trials are too much to bear, and where only a miracle will solve our problems.
Remember that Christ who loves you and gave Himself for you is more than able to provide wisdom beyond the ordinary so that we can live according to His purpose.
In Proverbs 3:5-6, it encourages us to:
"Trust in the Lord with all your heart and do not lean on your own understanding. In all your ways acknowledge Him, and He will make your paths straight."
Today, welcome in your hearts the Wonderful Counselor, who loves you and wants to guide you in your walk with Him.
751