Blog Archives
Posted:
May 24th, 2013 |
Filed under:
Blog
|
No Comments »
It's the question that's always on top of people's minds. Where was God when the tornado hit? Writing for FoxNews.com, my friend Rice Broocks helps us understand this conundrum in this article: Does the Oklahoma natural disaster prove there is not God?
Thomas Nelson recently published Rice's book - GOD's Not Dead. I consider it as the everyday persons handbook on apologetics. I read it before it went into print, it is awesome! I believe every disciple should read it!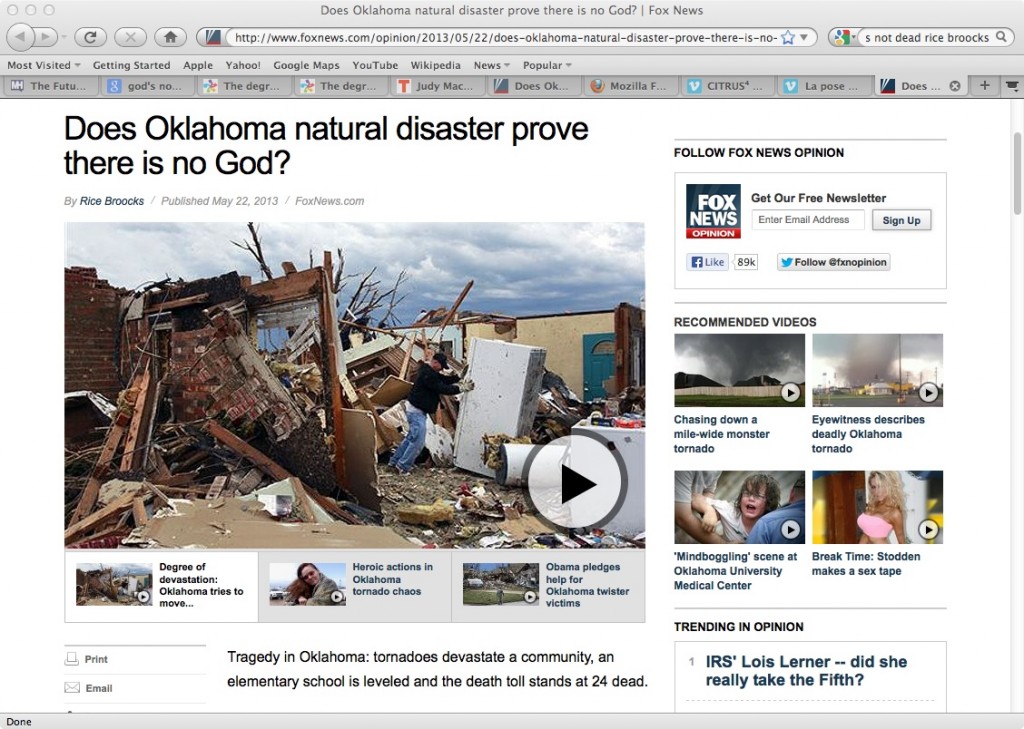 ---
---
Posted:
May 22nd, 2013 |
Filed under:
Blog
|
No Comments »
My very first Connect Video for my website with Nick Vujicic. In line with The LEGO Principle. The goal of these videos is to help its viewers learn practical tips and be inspired to connect to God, connect to others and connect others to God.
Joey Bonifacio and Nick Vujicic – full interview 720p from Joey Bonifacio on Vimeo.
Here's a summary of Nick's interview:
The reality of life's challenges. That we are blessed because we are meant to be a blessing.
How does one connect to God? Connecting to God on a daily basis is the most important thing any human can do. Prayer and appropriating God's Word on a daily basis is critical. Speaking out loud the word of God to build faith.
There is a new level of Connecting to others and to God through serving others. We can't just be trapped in a routine. One way to break that is through serving others. Fact is when we serve we end up blessing ourselves because we are fulfilled to know that we are in the Lord's hand.
On connecting others to God. "The only way is to have compassion for everyone, even my enemies. That I would love them the way loved them. And this is only comes from a miracle from God."
Secondly, trusting on the Holy Spirit. Wow! That reminds me of my recent post: How to walk in the supernatural naturally.
Thanks everyone. Hope you like my very first Connect Video.
---
---
Posted:
May 20th, 2013 |
Filed under:
Blog
|
No Comments »
Last Saturday I had the privilege of having a one on one moment with Nick Vujicic, the Ozy evangelist and speaker. The first thing you sense when you are with him is pure unadulterated joy. Something that clearly comes from within. On Wednesday I will post the video interview that is really along the lines of how to connect to God, connect to others and connect others to God – The LEGO Principle.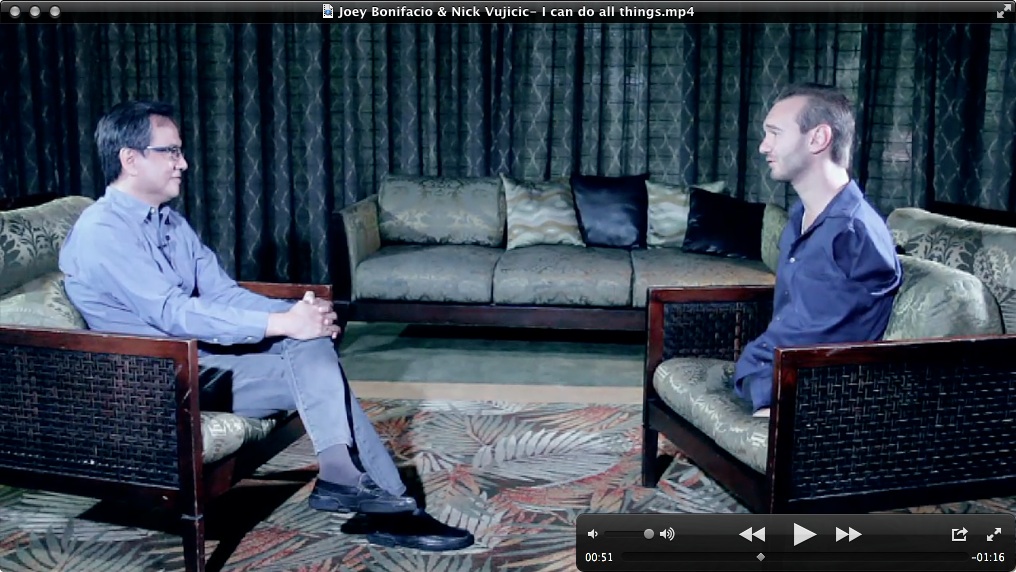 For today, I am recounting a story in Nick's first book – "Life Without Limits." It was an incident that was a turning point in his life. He was 24 years old when it happened. Nick was invited to speak at church in Anaheim California. Packed to the rafters he heard a man calling his name. The older gentleman pointed to a younger man who was carrying a child.
When the man lifted up the child he too did not have arms and legs like Nick. The effect on Nick is captured on this account from his book:
"I first felt compassion for him and his family. But then sharp memories and anguished emotions bombarded me as I was vividly brought back to how I felt at about that age, and I realized that he must have been going through the same things.
I know how he feels I thought. I've already been through what he will experience. Looking at Daniel, I felt a connection and a surge of empathy for him.Old feelings of insecurity, frustration, and loneliness flooded back, pulling the air out of my lungs.
Then I had a revelation that brought a sense of calm. When I was growing up, I had no one who shared my situation who could help me guide me, but now Daniel has someone. I can help him. My parents can help his parents. He doesn't have to go through what I went through."
According to Nick this was a turning point in his life. He had already been serving God and reaching out to others but the encounter was a "life changing moment." He writes:
"In that life changing moment when I looked out and saw Daniel held above the crowd in that church, I realized that I'd become the miracle that I'd prayed for. God had not given me such a miracle. But he had made me Daniel's instead.
I was twenty four years old when I met Daniel. When his mother, Patty, hugged me later that day, she said it was like stepping into the future and hugging her own grown-up son. "You have no idea. I've been praying that God would send me a sign to let me know that He has not forgotten my son or me,' she said. 'You are a miracle, you are our miracle.'"
The simple thought I had as I read this story is how God has created each one of us as the miracle for someone else. Often we are too busy focusing on ourselves that even our prayers are directed in wanting miracles for our own lives. Today, as you pray, ask God to make you the miracle that someone else is believing Him for. It is often the miracle that God wants to do but one we often miss.
Have a great week!
---
Posted:
May 19th, 2013 |
Filed under:
Blog
|
No Comments »
Tuesday to Thursday:
With Michael Paderes (r) and Ado Bernardo (l) en route to Johannesburg South Africa to conduct Strategic Planning Meeting.
Picture right: With Johannesburg senior leaders, Roger Pearce (r) and Simon Lerefolo.
Picture above: The Joburg team during the Strat planning Meeting.
Saturday/Sunday:
Left: One on one moment with Nick Vujicic.
Right: With Dr. Andrew Luison, a hero of the faith I look up to.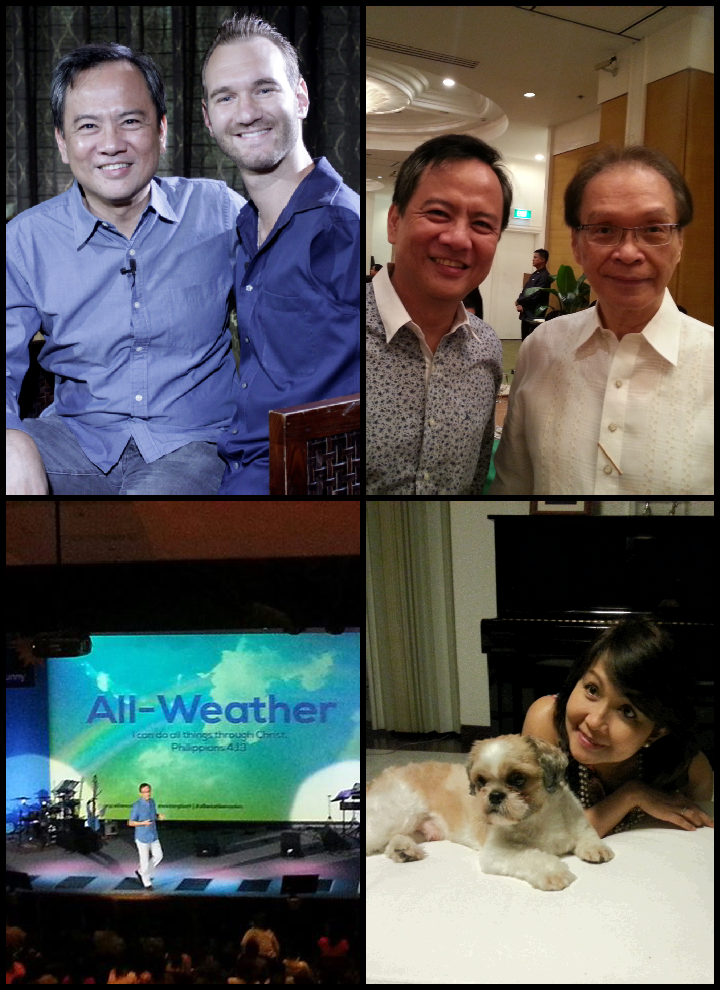 (left above) Preaching at Victory Fort.  (right) At home with Marie and Vito.
---
Posted:
May 17th, 2013 |
Filed under:
Blog
|
No Comments »
I must give credit to whom it is due. Pastor Gillian who is an Every Nation pastor from South Africa shared this brief message and I have simply built on his awesome revelation.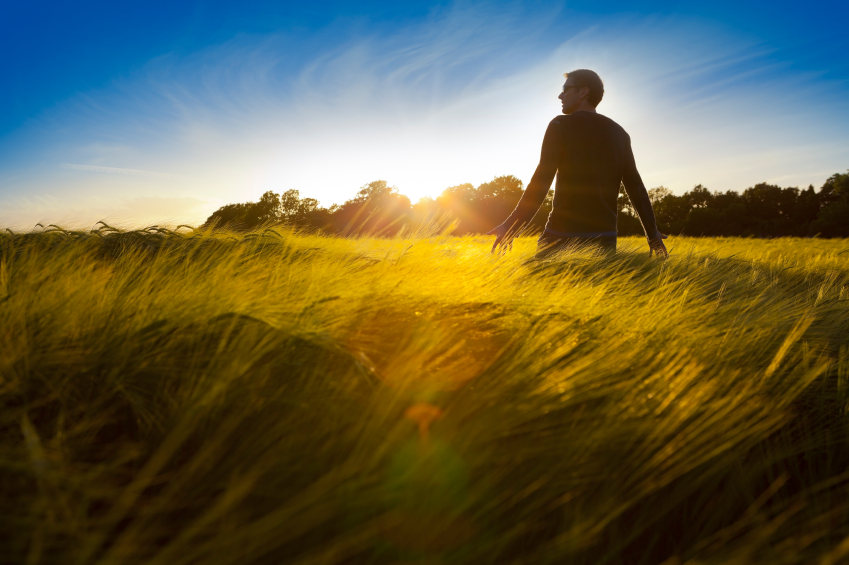 "Now there was a man in Jerusalem called Simeon, who was righteous and devout. He was waiting for the consolation of Israel, and the Holy Spirit was on him." Luke 2:25
Simeon was righteous and devout. What distinguished him from other people who were righteous and devout was that the Holy Spirit was with him. This seemingly ordinary man was living a supernatural life simply because the Holy Spirit was on Him.
Gilian made the point that the Bible makes no reference to the word supernatural. He said that the supernatural was simply a by-product of the presence of the Holy Spirit in one's life. It is the same Holy Spirit that supernaturally impregnated a normal teenager named Mary. It was also the Holy Spirit who visited the ordinary and normal men and women on that fateful day on Pentecost.
"It had been revealed to him by the Holy Spirit that he would not die before he had seen the Lord's Messiah." Luke 2:26
Making the supernatural normal is not about being weird and mystical but about having a relationship with a PERSON – the Holy Spirit. A relationship that is intimate enough that you can hear Him and get day to day seemingly ordinary revelations from Him.
"Moved by the Spirit, he went into the temple courts. When the parents brought in the child Jesus to do for him what the custom of the Law required,…" Luke 2:27
Walking in the supernatural is not about acting and behaving in extra natural ways but is about being so relationally intertwined with the Holy Spirit. A relationship so intertwined that He is able to move us in the right direction.
The supernatural walk is not always predicated by the mysterious and bizzarre but is about meeting ordinary people like two parents and child and know that something supernatural is going on.
Walking in the supernatural is to be able to see through the lenses of Holy Spirit and see that in the midst of very ordinary circumstances God is able and ready to move in and through us supernaturally.
"Simeon took him in his arms and praised God, saying: "Sovereign Lord, as you have promised you may now dismiss your servant in peace." Luke 2:28-29
Ultimately walking supernaturally is aligning our lives to God  and declare, "I choose to put my life under your sovereign will whatever that may be."
Action Point: Cultivate a relationship with the Holy Spirit. He is not a force, power, a wind, He is a PERSON. He desires that we remain sensitive to Him so naturally that we would walk everyday supernaturally.
---
---
Posted:
May 15th, 2013 |
Filed under:
Blog
|
No Comments »
I have not had a travel schedule as crazy as the last 16 days. I flew from Melbourne to Singapore. Spent two days in Singapore and headed home in Manila.  Preached that weekend and then flew to Kuala Lumpur for 2 days, a day stop back in Manila then off to Guam for 2 days, preached there Sunday then flew back to Manila for our elections, 18 hours later I flew to Singapore and then to Johannesburg where I am writing this post. 10 flights in  16 days.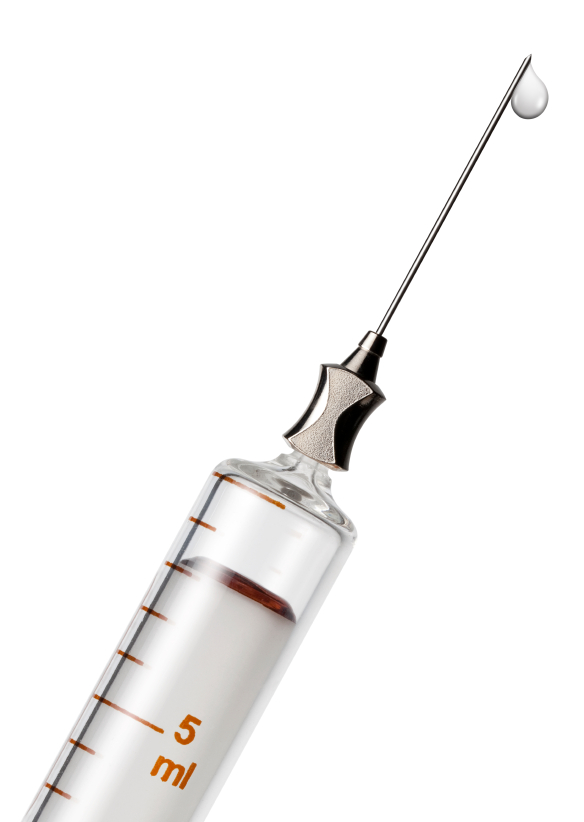 One of the tricky things about taking all these flights is the amount of viruses and bacteria you expose yourself to. But I was not prepared for the one that hit me on Guam. The infection caused a serious bloating in my stomach that I have never experienced before. Then every joint in my body ached severely I was crying out to God for relief during the 3.5 hour flight coming home.
Then it happened God answered my prayer and the virus left and all my pain subsided without a hint of fever. I got home in time for the tail end of Mothers' Day dinner with my family.
I was exhausted but definitely not sick. My body overcame the infection. While I credit God for my healing there are two practices I do in the natural that I believe have contributed to my overcoming the infection in a matter of three hours. The first is my regular intake of H202 which is too long to explain here.
The second is my constant exposure to viruses and bacteria that has allowed my body to gain resistance over them, what I call "natural inoculation."
I believe that this is also true about having a strong spiritual life. Sometimes we think that making disciples is about shielding people from the sin infested world we live in. We design church as safe havens for the pure and unadulterated. We have this notion that Christianity is about the protective spiritual bubble that will keep people from being infected by the world around them.
There is a place where the Bible says, we are to be in the world but not of the world. Obviously we need to protect our children from the ways of the world when they are young and impressionable. But soon enough we should realize that  we are the way the world will know about God.
Remember that God did not put Adam and Eve in a "bubble" away from the infectious wiles of the Devil. Instead He exposed them to some of the potential infection. That's because God knows that the key to a strong spiritual life is not to be shielded from the world and it's ways by living in a sanitized environment with it's false security.
Rather the key is to be exposed to the reality of a sinful decaying world whose infectious ways may attack. And yet will time and again will be overwhelmed by the intensity of the power of the Gospel of Jesus Christ as it is revealed to us by the Holy Spirit each day. God loves me and He has saved me from my sins. The simple revelation that always works to kill the devil's viral ways.
And with each encounter a constant inoculation of the devil's schemes is thwarted by the Gospel. Similarly as our physical body gains resistance to these viruses our spirits are able to resist the devil's schemes.  So don't run from the world but live confidently that God will help you overcome any temptation the Devil throws at you.
"So we say with confidence, "The Lord is my helper; I will not be afraid. What can mere mortals do to me?" Hebrews 13:6
---
---