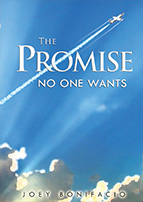 There is a promise from God for virtually every area of life. It has been said that the Bible contains over 6,000 promises. These often quoted promises range from God's faithfulness and spiritual blessings to physical wellbeing and divine favor.
However, there is a promise that is seldom mentioned and very rarely claimed, one that holds the key to seeing our destinies fulfilled. It is The Promise No One Wants. This little book will help you understand and receive this precious promise.
Review:
Well you may be thinking now that I never leave the house, but this book is really short. Its only 71 pages long and about the size of those little gift books, but the difference is that this one was actually really good. Joey Bonifacio is one of the pastors at our Every Nation churches in Manila, Philippines called Victory.
The title is really self explanatory and the promise he is referring to Hebrews 12:26-27 talking about that God will shake everything in your life. He uses the life of Joseph and the way God broke Joseph to bring about his will for Joseph's life. He talks about how the greatest breakthrough in life always comes right after the greatest shakings.
I would recommend this little book, it won't take much of your time and he will pack some good revelation into those 71 pages. He brings some great perspective on Joseph's life and the good and bad decisions he made. Go read.
- Ross Middleton