Posted
July 27, 2017 under
Blog
Enoch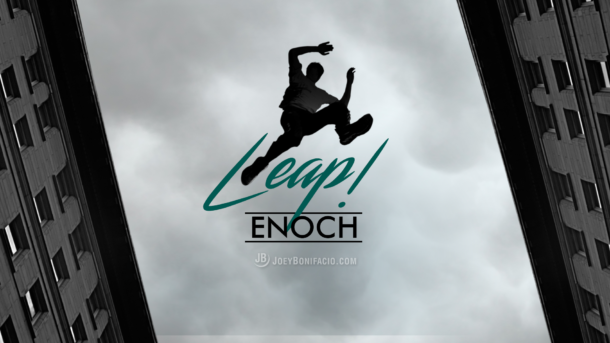 They didn't see what was promised. They were flogged, beaten, and vanished. They suffered here on earth and did not have a full glimpsed of what they believed in. Despite it all, they went beyond believing and obeying God, by faith. They are the men, with their eyes on the eternal, took the leap.
In my hometown of Manila, it's not easy to walk, but the advent of malls and the number of gated subdivisions and exclusive villages with parks have made walking a bit more convenient and possible.
It's when Marie and I moved to Singapore that we had more fun and of course time walking. Here, you walk everywhere! There's an abundance of sidewalks, bridges, and terraces all linked to each other. And of course, interconnected MRTs that are then linked to malls and office places—underground, aboveground, on the side, you name it. In Singapore, everyone does a bit of walking.
As everyone knows, walking requires effort. It can also be boring and mundane, especially when you have no one to talk to while walking, or hold hands with (now single people, hang in there), or if the weather conditions aren't exactly conducive to walking.
But there are major benefits in walking. According to the Mayo Clinic, one of the most pre-eminent health authorities in the world, walking helps trim your waistline, strengthen your bones and muscles, and improve your mood. But mentally and even emotionally, walking slows you down. It allows you to appreciate your surroundings. It nurtures presence of mind.
Enoch, whom we get to know in Genesis 5 is a man who exemplified walking at its best. No, not in a fitness level, but in a spiritual level.
After he begot Methuselah, Enoch walked with God three hundred years and had sons and daughters. So all the days of Enoch were three hundred and sixty-five years. And Enoch walked with God; and he was not, for God took him. Genesis 5:22-24, NKJV
In the Bible, this man didn't really do anything extraordinary, grand, or heroic in human terms. He didn't build churches. He didn't disciple hundreds. I doubt if he even has a small group (for sure he didn't go to Victory Weekend).
But he did one thing: He walked with God and it pleased Him. He lived his life, all 365 years of it walking with God.
His behavior and his heart gave God pleasure.
In this passage, the kind of walking Enoch did was not being in step with the times, but he was in step with God. He obeyed Him and aligned to His will.
Walking to God amidst a world walking away from God
The world Enoch was living in was brimming with sin. His ancestor, Cain, lived a life of disobedience and built a city for himself, apart from God. This separation caused the world's inhabitants at that time to nurture wickedness in their hearts.
Despite it all, Enoch—by faith—decided to walk with God.
He chose to fix His eyes on His creator. He was intimate with His God, and because of that, He foresaw things.
Imagine, 365 years of walking with God?
The conversations, the revelations, the throwback of messages between Enoch and God must have been immense.
If there was Facebook Messenger at that time, the discussion between God and Enoch would fill libraries with spiritual knowledge and understanding like the world has never seen.
That was the kind of relationship Enoch had with God and it brought much pleasure to Him.
The kind of walk with God that Enoch portrayed is one not only of obedience but also of agreement and intimacy.
He walked with God because He wants to. He walked with God because it was in Enoch's will to do so.
Enoch wasn't forced to walk with God.
Enoch chose to walk with God and be in step with Him, and Enoch considered that the greatest reward.
Throughout the life of Enoch, we saw someone who truly desired one thing and one thing only, and that is to be with God.
In Hebrews 11, the chapter where this man (who is seemingly ordinary and simple) was named as a man full of faith, it's written in verse 6:
And without faith, it is impossible to please God, because anyone who comes to him must believe that he exists and that he rewards those who earnestly seek him. Hebrews 11:6, NIV
Enoch pleased God because he believed that God exists and that He rewards those who earnestly seek Him.
By choosing to walk with God, Enoch applied his faith that God exists and that the Creator of the Universe will reward those who seek Him.
It's my prayer that in our own lives, we learn to seek God, not for anything else but to find Him. Because faith is the ability to walk with God and realize that he's pleased with me not because of what I did, but because of the faith that allowed me to enjoy His Presence.
0