Posted
June 29, 2017 under
Blog
Battleground: The Mind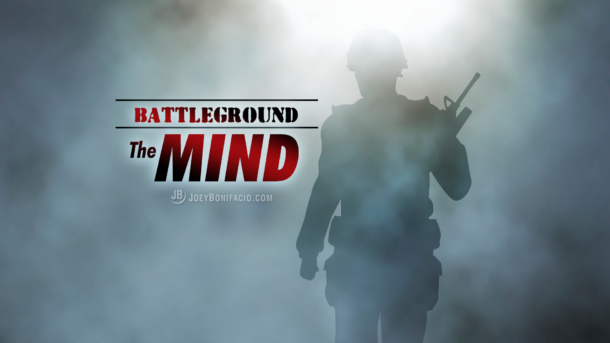 Note: This is the second part of a three-part blog series, "Battleground." You may read the first part by clicking here.
A few years into following Jesus, I remember Pastor Steve Murrell handing us a book called, "Renewing The Mind," by Casey Treat, and telling us that if we just win this war of renewing the mind, then we will succeed in life—that we will have a victorious life. This quote in the book stayed with me:
Sow a thought, reap an action
Sow an act, reap a habit
Sow a habit, reap a character
Sow a character, reap a destiny
Destiny is determined by the thoughts that we allow in our minds, and getting to the destiny God has for us depends on the degree to which we renew our thinking.
Romans 12:12 says, "Do not conform any longer to the pattern of this world, but be transformed by the renewing of your minds." When we give our life to Jesus, our old life is gone and we are made brand new in the spirit. Our minds, on the other hand, still need to be renewed. Our minds need to be governed by the spirit.
Here are three keys to renewing our mind:
Demolish strongholds.
When an army takes over a city, the first thing it does is to build a stronghold or a fortress, one area at a time. By that fortress, it overtakes that city eventually. Same goes with the devil's schemes. The devil cannot control our minds, but he craftily builds a fortress slowly, one brick at a time. Fortresses of fear, pornography, self-pity, or arrogance do not grow overnight. They start with watching horror movies as a child, picking up that magazine, or watching a TV show you shouldn't watch.
In 1965, The Beatles came out with a song called Nowhere Man. An excerpt goes...
He's a real nowhere man
Sitting in his nowhere land
Making all his nowhere plans for nobody
Doesn't have a point of view
Knows not where he's going to
Isn't he a bit like you and me?
This song was a brick that grew into a fortress called the hippie generation. Then, six years later, a generation grew up that was care-free and had no purpose, just as what the song had alluded to. We must be very careful in choosing what we allow to enter our minds, and what ideas we agree with.
How do we fight these? Jeremiah 23:29 says, "Is not my word like fire, declares the Lord, and like a hammer that breaks the rock in pieces?" To pulverize strongholds, we must take up that hammer which is the Word of God, and use it to hit against the strongholds in our minds. When we are overcome with fear, declare, "…for God gave us a spirit not of fear but of power and love and self-control," (2 Timothy 1:7) or "...he who is in you is greater than he who is in the world (1 John 4:4)" If we're sick, declare God's promise of healing, "By his wounds you have been healed," (1 Peter 2:24).
We don't need a big hammer, we just have to have a hammer. Hit that stronghold long enough, do it DAILY, and it will eventually collapse. Be determined. Be serious about it.
Take captive every thought.
Do not give the devil a foothold. Ephesians 4:27
We must not be passive towards sin, giving the devil an opportunity to sow lies in our minds. An army that is passive will lose. Do not conform to merely human principles. It is vital that we fill your minds with the word, meditate on it, and declare it. One tip is to enroll in classes that build knowledge of His word.
Remember that we are coming from a position of victory. General Wayne Wright, a prisoner of war back in World War II, upon learning that the Japanese have surrendered – emaciated, in tattered uniform, and having no weapon – went to the commander's office and boldly said "you need to surrender to me, the war is won." The fight that we have is not about fighting with our own strength. It is a fight of faith, based on the victory that Jesus has already won on the cross. It is boldly standing up and saying to the devil, "I don't care how crafty or how big you are, Jesus has already won the war for me."
Make every thought obedient to Christ.
For who has understood the mind of the Lord so as to instruct him? But we have the mind of Christ. 1 Corinthians 2:16
Our assurance of victory in this battleground is that the same mind that submitted to God's will, is the same mind that God has given us. We have been given the mind of Christ. Therefore, we do not lose heart. The Bible says, "You keep him in perfect peace whose mind is stayed on you, because he trusts in you," (Isaiah 26:3). Let the Prince of Peace live in our minds.
When we fight and renew our minds, the Bible promises that we will be able to "...discern what is the will of God, what is good and acceptable and perfect," (Romans 12:2). This is the ultimate reward that should keep us going.
We may feel that we have a lifetime of bad habits to un-learn, and that may be overwhelming. But God's promise is true: "For the weapons of our warfare are not of the flesh but have divine power to destroy strongholds" (2 Corinthians 10:4). Are you ready to live out victory in this battleground?
2