Posted
May 11, 2017 under
Blog
Underneath Every MOM Is a WOW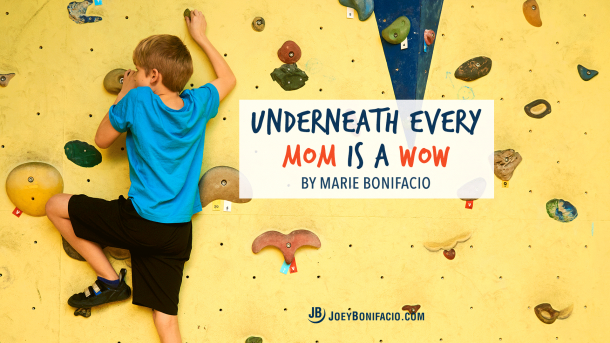 If you look at the word MOM upside down, you'll find a WOW. So for Mother's Day, I'm writing this post for all moms, both birth moms and women who have inspired and coached us along the way.
How to Bring out Your Inner WOW
1. Look for the WIN in your child first, not always the WORRY.
There's a story of a mom who had 2 sons. One son sold raincoats. The other son sold sunglasses. Whenever the day was bright and sunny, the mom was sad and worried. She was worried for her son who sold sold raincoats, since it was a sunny day. Whenever the day was rainy, she was still worried! Worried for her son who sold sunglasses! In short, it didn't matter if she had a sunny or rainy day, this mom always found something to be worried about her kids!
Moms, there is nothing lousier, than a habitually WORRYING attitude. Your child comes home with a B+, you wish it was an A. You read bad news and you warn your teenager about every danger and evil lurking out there.
It's time to celebrate a WIN! Your attitude is so important! Find something EVERYDAY that you can be grateful for.
The psalm goes "THIS is the day God made. I will REJOICE and be THANKFUL!" Not yesterday. Not tomorrow. TODAY is a gift to God for you. TODAY, you will be grateful for your life. TODAY, you will be grateful for your family.
Discover the strengths in your child and point them out to him or her. What are your child's strengths? What godly virtues (not just academic achievements) can you see a GLIMPSE of? Is he persevering? courageous? kind? diligent? creative? honest? Is he full of faith and big dreams? Is he good with people? Point out those personal wins.
2. Small wins are "STEPPING STONES" to Big wins.
Have you ever tried wall-climbing? I tried before. There's the Climber and the Belayer (the spotter holding the ropes below). As I'm harnessed and doing my best to climb that wall, the only way I can aim high is to find those "stepping stones." Without those little stepping stones, there's no way to reach the top.
My mentor's job is to let me climb on my own, but hold the ropes in case I fall. Do you think I'll succeed if the rope is too tight and the control is too much? If all I hear is " You're too slow! You're not listening! Why can't you be like your sister? Your butt is too heavy! You wont make it! You're hopeless!"
Do you think I'll be secure if my Belayer doesn't care about me? Or is never there? Instead, the best "spotter" gives space but also directions. He is available and able to point out to me the " stepping stones" that are within my reach. Encourages me not to give up. One step at a time. From strength to strength. And when I fail, my mentor's rope is there to keep me from crashing down. So I can try again. Today. The next day. By myself. With my mentor in the wings.
Motherhood is something like that. Your child is asking, "Why was I born?", "What am I good for?", "What am I good at?". Encourage your son/daughter by showing him or her the strengths and the good qualities you can see.
God celebrates your Wins and doesn't let go, even when you Fail. Maybe your child blew it, big time. I don't think he blew it, like Peter did. (Joey had a great word about Peter on Sunday. You can watch it here.) Peter failed HUGELY. He allowed his best friend Jesus to die!
Did Jesus give up on Peter? Read John 21. How did Jesus respond to Peter's failure?
Jesus gave this failed friend of his: A MIRACLE.
He gave him so much fish, his net was breaking.

Jesus gave this failed friend: KINDNESS.
He fed him breakfast by the beach.

Jesus gave his failed friend: new courage and a VISION FOR HIS FUTURE.
Basically, Jesus was saying, "Peter, I know you blew it. But I also I KNOW you love Me.
Your love for Me will bless many others in your future. It is not over yet for you."
So to my dear Moms out there, Happy Mother's Day! You are not parenting alone! God holds the ropes with you. May God, who is our forever faithful Belayer who holds our ropes, continue to encourage us as we watch over others :>
"May the God of hope fill you with all joy and peace as you trust in him, so that you may overflow with hope by the power of the Holy Spirit." Romans 15:13
0