Posted
May 18, 2017 under
Blog
Grace: Not By You, Not About You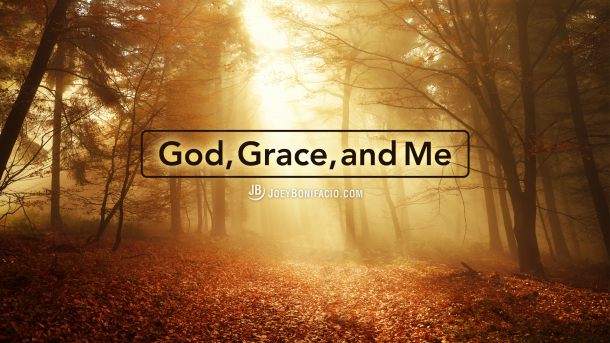 Note: This is the first of a four-part blog series that delves on the power of grace, and why God's love and the blessings He has given to every believer is always due to His character and not out of our own performance.
Results. Scores. Numbers. Likes. Follows. Shares.
We live in a world where everything is measured, especially our performance. Rarely do we have instances these days where something is "unconditional." We clock in at work and get paid by the hour. Our relationship with our boss and our company is based on what we can do and deliver. Sometimes, this performance-based mindset affects even our personal relationships and perception of things.
This mentality is what makes it difficult sometimes for individuals, even those who have professed themselves to be followers of Christ, to fully embrace the fact that grace is not by you or about you. But it's all about the One who freely extended it to you simply because He loves you.
Through Him and Him Alone
In his book, "What's So Amazing About Grace?" Philip Yancey talked about how the world caught a glimpse of God's grace through one man through an outstanding and improbable act of love and forgiveness.
In 1987, an IRA bomb buried Gordon Wilson and his twenty-year-old daughter beneath five feet of rubble. Gordon alone survived. And forgave. He said of the bombers, 'I have lost my daughter, but I bear no grudge . . . I shall pray, tonight and every night, that God will forgive them.' His words caught the media's ears and out of one man's grief, the world got a glimpse of grace. Grace is the church's great distinctive. It's the one thing the world cannot duplicate, and the one thing it craves above all else for only grace can bring hope and transformation to a jaded world.
Now, where did Gordon Wilson get this ability to extend grace to his fellow man? How did he have the capacity to forgive and love anyway, even those who have caused him loss? No less than by the Savior who has accorded Him grace for the forgiveness of his sins.
For he chose us in him before the creation of the world to be holy and blameless in his sight. In love he predestined us for adoption to sonship through Jesus Christ, in accordance with his pleasure and will— to the praise of his glorious grace, which he has freely given us in the One he loves. In him we have redemption through his blood, the forgiveness of sins, in accordance with the riches of God's grace. Ephesians 1:4-8
Because more than two thousand years ago, in a cross in Calvary, God sent His one and only Son for you and for me, out of His love, and purely by His grace. He gave us something we do not deserve simply because He loved us. Despite our sins and our offenses toward Him, He gave us His all so we can have a relationship with Him.
This is the kind of grace Gordon experienced and the same kind of grace made available for you and for me.
Grace, unlike the kind of relationship the world demands, is not based on our performance. Our relationship with God has nothing to do with what we can do for Him, but it's about what He has done for us.
It's by this very grace then that we're able to overcome and say no to sin. It's not a license to keep on sinning knowing that God will forgive. But out of our gratitude and love for Him, we choose not to sin because it will hurt Him. It will affect our relationship with a God who loved us so much who not only absolved us from a death we deserved, but went above and beyond, giving us the grace to empower us and do His will.
Contrary to what the world demands and requires, God is not after our results.
He's after us. He's after our hearts.
And by His grace, we can commit our all to Him. By His grace, He saved us. By His grace, we can overcome our biggest challenges and greatest trials. And the greatest reward of all, by His grace we can continue to come before the throne of God with confidence and experience His presence.
1