Posted
May 25, 2017 under
Blog
Grace: Beyond Unmerited Favor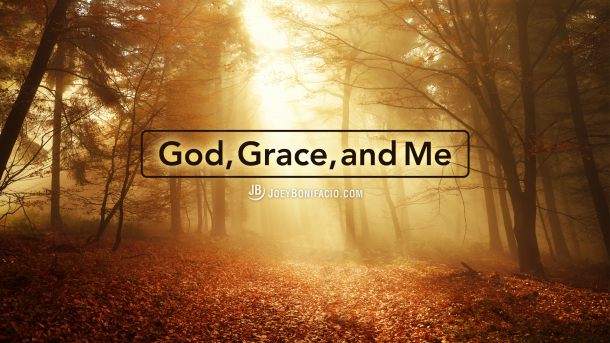 Note: Last week, we started a series on God's grace entitled, "God, Grace, and Me." If you haven't had the chance to read it, click the link for a quick read, just before going through this entry.
It's a vast concept and one that even the Apostle Paul himself took some stride to explain in 115 verses in the New Testament. The concept of grace is multifaceted and it can be interpreted in different dimensions. Grasping the concept of grace is similar to understanding God's love. It is wide, deep, and high, and demands time spent with Him and His Word. Being able to define what grace is about is a lifetime journey.
Long-time pastor, best-selling author, and contributor to the NKJV Spirit Filled Life Bible, James Ryle defines grace as:
"Grace is the empowering presence of God to be who God made you to be and to do what God has called you to do."
Though many Christians today who have been exposed to this concept for years would define grace as unmerited favor, it's beyond that. In the same measure that it takes an enormous and supernatural force to move the earth and keep its balance, grace has the same potency and power.
Grace enables us to be who God has called us to be, and live the life He has called us to live. Through grace and by grace we can live as sons and daughters of God, who will obey His will and fulfill the purpose He has given us.
In this quest to understand grace, it's important to know that grace is about a Person, requires a trait for it to receive, and brings a reward once it's at work in our lives.
The Person: He Who Is Full of Grace and Truth
The Word became flesh and made his dwelling among us. We have seen his glory, the glory of the one and only Son, who came from the Father, full of grace and truth. John 1:14
Grace starts with a Person named Jesus Christ. When He came down to shed His blood on the cross, to reconcile Him to the Father, grace has been made available to everyone who believes in His Name.
In this process of defining grace, we must remember that it begins and ends with a Person.
Jesus Christ modelled grace by living a life filled with and dependent on it. Despite the odds, the suffering, and the intensity of His calling, Jesus thrived on earth and fulfilled His destiny because of His Father's grace.
The Scriptures note that even Jesus Himself received God's grace, and He was full of grace and truth.
This is the idea that we want to embody—that Grace comes from God and it enables us to do what He has called us to do. It's not only unmerited favor, but it's an enabling and empowering presence, that even Jesus Himself tapped into in order to do God's will.
We are not Jesus. We are not perfect. And thankfully, we will not need to be crucified for our sins because He has already done that for you and for me. But for us to fully experience grace and live a life full of it, we need to gaze on Christ's life and His example.
We also need to possess a trait that will allow us to seek for Him and His grace.
The Trait: Humility
In Ephesians 2:4-8, it says:
But because of his great love for us, God, who is rich in mercy, made us alive with Christ even when we were dead in transgressions—it is by grace you have been saved. And God raised us up with Christ and seated us with him in the heavenly realms in Christ Jesus, in order that in the coming ages he might show the incomparable riches of his grace, expressed in his kindness to us in Christ Jesus. For it is by grace you have been saved, through faith—and this is not from yourselves, it is the gift of God.
We are dead in our sins. It is only through the power of Christ and His grace that we are saved.
1 Peter 5:5 calls us to clothe ourselves with humility, because, "God opposes the proud and shows favor the humble."
Now, do you want the grace and favor of God?
I sure do, and humility is the trait that will help us realize that the only way we can be made alive despite our sins is through His saving grace. We can only experience His saving grace by realizing that we cannot do it alone.
This is why, out of humility, we surrender our life to Christ. We say, "I can't do this." "I'm incapable of doing His will without His grace."
Our very salvation cannot come from our good works, but only by His grace. And when we receive His saving grace and experience it, it is only then that we can experience a reward that comes from God Himself.
The Reward: A Relationship and a Purpose
It bears repeating, "Grace is the empowering presence of God to be who God made you to be and to do what God has called you to do."
In Hebrews 4:16, it reads:
Let us then approach God's throne of grace with confidence, so that we may receive mercy and find grace to help us in our time of need.
By now, we know that grace is and is about a Person, and that humility is a key trait for us to experience this saving grace.
Now the reward when we recognize Christ and humbly come before Him, and surrender our lives to Him, is a relationship restored, and a purpose bestowed.
That gap that was once there when we're disconnected from God because of our sin, unable to experience His power and presence, has been bridged; because of His grace, through His Son, and when we respond in humility.
God's love for us and His saving grace has made this possible: anytime, regardless of what we're going through, we can come before Him, assured of the truth that we will find Him and the grace we need to fulfill His will and the purpose He has given us here on earth.
0