Posted
May 4, 2017 under
Blog
A Different Spirit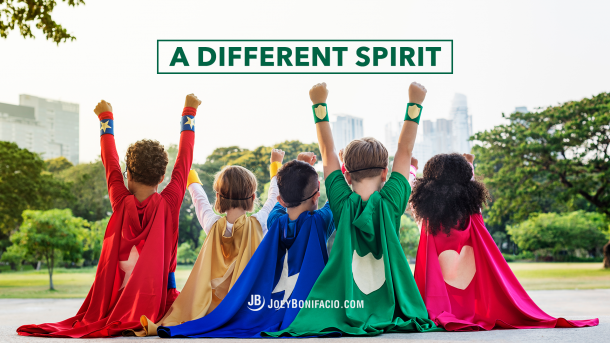 Hi everyone! Marie here. Here's my Thursday blog post. First time I'm posting a blog as a surprise for my hubby.
Yesterday, my hubby Joey had a big smile on his face. A group of EN Manila pastors and friends threw him a surprise lunch for a very advanced birthday celebration at the Fort.
Joey is usually very good at sniffing out surprises, but this one, he never guessed.
Driving home last night almost 11 PM, after a long day and late meetings, even upon waking up this morning, there was a bounce in his step and a smile in his heart. (Yes I have x-ray vision. His heart was grinning from ear to ear, heheh, if hearts have ears).
Those of you who know my hubby, are familiar with his ways. He is often on a giving mode, very used to giving out, helping out, a McGyver, Swiss Army knife kind of guy, who readily goes wherever he's needed. The bigger the problem, the bigger the mountain, the more spiritual muscles he can use and grow.
This has often posed a challenge to me as I am a Problem-Avoider married to a Problem-Solver! His response to challenges is, "Yes, God, we can do this!" My knee-jerk reaction is, "God, why me?!?"
But yesterday, my hubby was put in an unexpected, unfamiliar receiving mode, as close friends and colleagues shared at the lunch, their memories of their adventures, working with Joey through the years in ministry.
From Joey's rollerblading challenge at age 40, to surprise Laser Sword attacks, Nerf gun battles on unsuspecting staff; from all kinds of diets, most infamously the hydrogen peroxide water cleanse that blew a fountain in his office; from iPhone to Samsung, back to iPhone; from the years working as a businessman/entrepreneur; transitioning to a bi-vocational minister with no rest day, as he worked 7 days a week; to finally making the leap to full-time pastor; to years pastoring Victory Makati; then pastoring Victory Fort Bonifacio; to heading the Metro Manila churches for a season; then traveling to serve churches in Asia, helping streamline different ministries locally and abroad; to spearheading the construction of our Every Nation Building 1 and the fundraising that that entailed to be followed by Every Nation Building 2; heading the Real Life Foundation; and now a new call in Singapore. (It made me tired just to write that! Haha!)
Our friend, Ariel Marquez, summed it up accurately. My hubby has a Joshua spirit. Joshua was one of the twelve spies that Moses had sent out to explore the promised land. Ten of them saw big problems. Two saw a Bigger God. Both were real. Yes, there were very real GIANT Problems. But Joshua and Caleb had eyes that saw that God's promises were Bigger.
God blessed Joshua with strength and faith even as he grew older (Joshua 14:10-11):
"Now behold, the LORD has let me live, just as He spoke, these forty-five years, from the time that the LORD spoke this word to Moses, when Israel walked in the wilderness; and now behold, I am eighty-five years old today.
"I am still as strong today as I was in the day Moses sent me; as my strength was then, so my strength is now.
And so, I am grateful. I am grateful to be married to a man with a Joshua spirit and different eyes that help me see what I cannot see.
I am grateful that God has given us the opportunities through the years to work with a truly amazing group of men and women, of strength and talent, yet with such humble hearts to serve like Christ. They have served as examples and inspiration.
To cap an already happy lunch, two of our sons, Joseph and Joshua, spoke about their dad. It wasn't planned. Just as the lunch took simple planning. Our sons, just spoke from the heart. And if you know our boys... haha, they can say anything!
Their words brought Joey so much honor, and a lot of laughter and memorable tears, as memories rushed in.
It's a special thing when work colleagues say good things about you; but its irreplaceable, and so precious, when it's your children who honor you and mean it.
And so dear Joey, I know why your heart is happy. My heart is happy too.
Thank you for being a faithful man and a man of faith.
Thank you for being strong, and saying sorry when you are wrong.
Thank you for boiling hard-boiled eggs and standing in awe at your DIY wife 😀
Thank you for having a Joshua spirit. Because I have been the Caleb to your adventures without my knowing it.
Thank you, Jesus. To you be all the glory, for all You have done and continue to do. We depend on You.
0