Posted
April 7, 2017 under
Blog
What's There to Celebrate About Easter?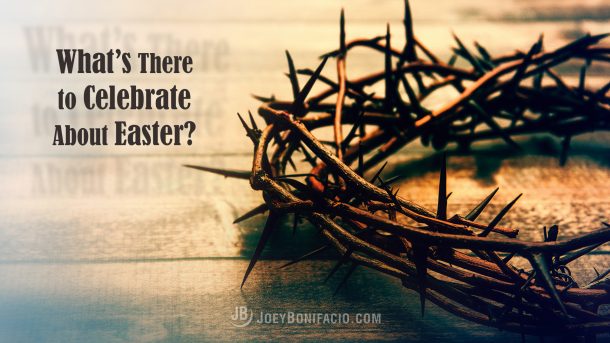 In the past 30 years, I've frequently traveled to Singapore for business and ministry. But this year marks the first time my wife and I get to spend Holy Week and Easter here.
Back in Manila, it's like time would stand still in the metro as a huge percentage of people either go to their hometown in the provinces or embark in a pilgrimage to visit seven churches. And still, a lot of people would take it as an opportunity to go to the beach and take a cool dip.
As precious as Christmas is, we may have overlooked this holiday for the real value it holds.
When we declared Jesus as Lord and Savior of our lives, that confession was hinged on the first Holy Week and Easter of history. Jesus suffered, was crucified, died, was buried and on the third day, He rose again.
Jesus had to go through this ordeal because God's justice demanded these:
A Perfect Redeemer
So if the Son sets you free, you will be free indeed.
John 8:36
We can never save ourselves. Our resolve and power cannot keep us from falling into sin over and over again. Jesus is our Perfect Redeemer. On the cross, Jesus triumphed over death and gave us the power to overcome sin.
A Perfect Substitute
But he was pierced for our transgressions,
he was crushed for our iniquities;
the punishment that brought us peace was on him,
and by his wounds we are healed.
Isaiah 53:5
Jesus bore our transgressions, corruption, sin, and shame, because we could never pay the price of our wickedness.
A Perfect Mediator
For there is one God and one mediator between God and mankind,
the man Christ Jesus, who gave himself as a ransom for all people.
1 Timothy 2:5
Jesus answered, I am the way and the truth and the life.
No one comes to the Father except through me.
John 14:6
Once and for all, Jesus made His all-exclusive claim that He is the only way to the Father. It wont be possible through our good works, charity, or saints. He is the one and only way to God.
I realize that the message of this season is highlighted by sorrow, grief and weeping, punctuated with a single day of celebration. I believe this joy needs to carry over every single day of our lives. Just as we wish that every day was Christmas, declaring that every day is Easter carries more significance and weight for us believers.
My prayer is that this season would not be something that would pass you by, but something that brings peace, joy and hope.
0