Posted
March 30, 2017 under
Blog
I Love Work!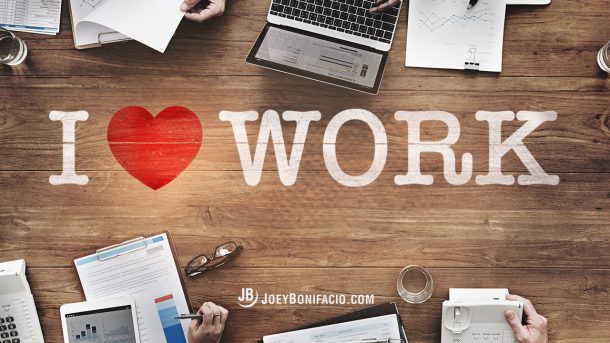 For many of us, the mere thought of work makes us cringe. A lot of people actually go through the work week just to get to the weekend.
But there is dignity and blessing in labor. Our God Himself worked and took delight in His work (Gen. 1; 2:2-3). When God made man, He gave him work to do (Gen. 2:15).
The Lord God took the man and put him in the Garden of Eden to work it and take care of it.
Genesis 2:15
When our hands are occupied with productive work, we are satisfied. On the other hand, when we are idle, we find ourselves restless. And the more we work -- and do our work well -- the better we feel.
Interestingly, the Hebrew word abodah, one of the words used in the Bible to refer to work, is frequently translated worship. From this word is derived the verb abad, which means to work, to labor, or to serve (John Garr, Generosity: The Righteous Path to Divine Blessing). Could this then mean that work and worship are intimately connected?
This makes sense when we remember that we are told, .... whatever you do, do all to the glory of God. (1 Cor. 10:31) Indeed, at the fall of man, the ability to provide for ones needs came to involve toil (Gen. 3:19). But our redemption in Christ redeems work as an opportunity to glorify God, so that instead of continuing to see work as demeaning, menial labor, work gains a spiritual nature as an opportunity to worship God and serve others.
Work is Gods gift to humanity. And so, when you go to work today, thank God for your job. Thank Him that He entrusted this work to you for which He equipped you to do well and make an impact for Him in this world, and through which you can glorify Him. Then at your place of work, offer Him in worship the excellent work you will do today and every day. And as you seek to honor God through the work of your hands, may the Lord richly bless you.
The LORD will open to you his good treasury, the heavens, to give the rain to your land in its season and to bless all the work of your hands.
Deuteronomy 28:12
0