Posted
February 16, 2017 under
Blog
Undeserving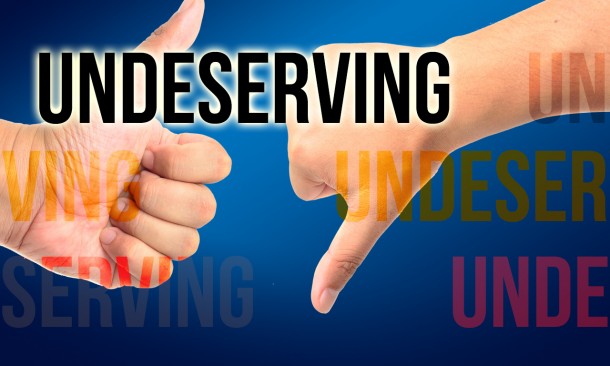 One day, I had an interesting chat with an old friend.
She was a quiet person, a lawyer by profession, diligent and smart.
Lady friend: "Can you pray for me Marie? I don't know why, but I have this cloud of depression over me."
I looked at my sweet friend and not knowing her circumstances, slowly asked her one question:
"Do you feel that you deserve the blessings, that God is giving you today?"
She burst into tears.
It turned out that not only was she receiving favor at work and from her colleagues, her company was even giving her a salary increase. All this was happening in her life.
But instead of her blessings giving her joy, it was giving her guilt.
Weighing on her mind and shoulders, were the thoughts of so many other people (relatives and countrymen) who were struggling and seeking employment.
How could she enjoy her life when others were suffering?
This was a lady who had selflessly given time, money and effort, to fund the medical treatments of her sister, she also quietly and sacrificially gave to church building funds, while anonymously supporting Christians and missionaries.
This was a lady who lived frugally, denying herself of certain necessities of life that others would find common and expected. Yet despite her generosity, hovering over her head was a cloud of guilt and a question:
"How can I enjoy my blessings when others don't have the same?"
I asked my sweet Christian friend another question:
"Do you feel you deserve eternal life?"
We all are undeserving of heaven. Because of our sinful nature, none of us deserve to spend eternity in heaven. Because of our wickedness, there is no way, our best effort can wash our guilt or shame away.
But God SO loved the world that HE GAVE.
HE GAVE.
That for me, are 2 mind-blowing words. GOD GAVE.
Despite my sins. Despite all my wicked thoughts and wicked ways. Despite all my words spoken in anger, pride and insecurity. He gave.
Such is the generosity of our God.
"For God so loved the world, that he gave his only Son, that whoever believes in him should not perish but have eternal life."
John 3: 16
*We don't deserve SALVATION, but God chose to give it.
That means we can live Guilt-Free, but Grateful.
For example, what if I chose to give 3 year old Philip a Lego set?
Would it make me, the giver, any happier, if Philip responded this way:
"Nana, I don't deserve this Lego."
I will only open it and enjoy it, on 2 conditions:
1) I will enjoy it only when I am old enough to pay you back,
2) I will enjoy it only when every other child on earth has the same Lego.

In the meantime, I will feel very guilty that you gave me this Lego and others don't have it.
Or would this be a better response:
"Nana! Thank you so much for this Lego! I am so happy!
I will enjoy it, take good care of it and I will share it when You tell me to share it. I love you Nana! Thank you!!"
*Reminder # 1:
God's Generosity to You, Doesn't Mean Someone Else is Being Deprived.
God has enough resources for everyone.
When you are being blessed, don't allow the devil to weigh you down with guilt. Remember, his job is to steal, kill and destroy every act of God in your life. Instead, simply respond in thanks and humility.
"Thank You for this blessing, Father. Please help me be a good steward of your blessings."
Reminder # 2:
God is Sovereign.
Blessings are not just in the form of Financial Gain.
CHARACTER- BUILDING experiences are also evidence of God's blessings.
We often equate blessings with having money given to us. But God can also give us Character-building experiences that will benefit us, our relatives and friends, more than just a money bail-out.
As godly parents, we don't want to raise weak or self-indulgent, spoiled children. Sometimes, as God's children, God gives us challenges that increase our faith in Him and strengthen our spiritual walk. These are qualities that money can't buy.
So how to respond when you get a blessing or promotion?
Give thanks and trust in the Lord.
Keep your eyes on your Savior not your money.
How to respond when you are facing a challenge?
Give thanks and trust in the Lord.
Keep your eyes on your Savior not your challenge.
"Trust in the LORD with all your heart,and do not lean on your own understanding.In all your ways acknowledge him,and he will make straight your paths."
Proverbs 3:5-6
God bless you and have a good week :>
0