Posted
January 19, 2017 under
Blog
Happy Used Year!!!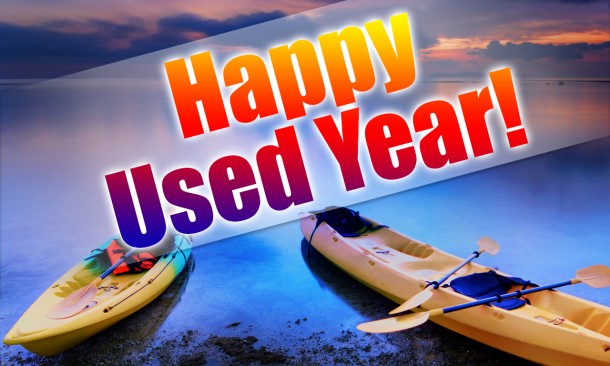 Happy Used Year!!!
We returned to our little apartment in January after the holidays, and I (Marie) discovered in our freezer--an expired pack of frozen spinach lasagna.?It said,?"Consume before December 2016."
R.I.P.
Here in my freezer, lies my poor pasta.
Frozen and forgotten.
Never to live up to its' full potential as a lasagna.
Maybe it's because I'm writing this during our weekly January 2017 fast, but I can't get that pasta dish out of my mind.
Was it delicious and cheesy? Creamy??Were the noodles going to be oozing with flavor once heated up??I will never know.
Aside from lasagna, there are the candles.?The ones I collect.
I have a friend (you know who you are) who owns?beautiful, boulder-sized candles with multiple wicks. But she refuses to light these fabulous candles!?These candles are "for display only."
Unlit. Unused.?Do you do that, too? Keep things "unused" because you want to "preserve it?"
Speaking?of unused, I discovered muscles I never knew existed.
Joey and I went kayaking last Saturday.?We've done that years ago. No big deal. Right??Well apparently, in this Singapore kayak center, you just don't plop your behind in the kayak and paddle away. Kayaking here is D-I-Y. Do-it-yourself Kayaking.
There is a very organized system to it:
First, you select your vests, your paddles, then you haul the kayak of your choice out of storage.
You carry your own boat, out of the storage area, until you reach the dock down at the lower level.
I didn't realize how heavy a kayak was!! I was sweating, my muscles were protesting and we hadn't even begun.
Then you push your kayak into the water, making sure you don't make a fool of yourself by toppling into the river, as you step into the boat.
After kayaking for 40 minutes, in the heat, my hubby, his frozen shoulder, and I headed back to the landing area.
I literally crawled onto the dock, like a wet dog, and we dragged/carried our kayak back to land.?But wait, there's MORE!!!
You have to RINSE/hose down, clean your own boat, as well as dunk and swish your vests AND paddles into a soapy solution, prior to your returning all items back into the storage area on the upper level.
By the time we walked home, Joey and I lay flat and incommunicado for 90 minutes!
We had discovered, burned, and used muscles we never knew we had.?And that folks, was how my January started.
My prayer for all of us is that when December 2017 hits, we can declare, "Happy Used Year!"
Not a "Happy Unused Year", or an?"Unhappy What-Happened-to-My Year."
Like our kayaking experience, I want to discover and use new muscles, and have a MAXIMIZED 2017.
Maximize. Here's one definition:
Definition:
Maximize
to use (something) in a way that will get the best result
That's a great word for 2017. Maximize.
To use our lives in a way that will get the best result.
Want to get the best results from 2017?
1. Realize that your days are numbered by the Lord.
That's not a morbid thought.?Here's how the Bible describes it in Psalm 90:12:
"Teach us to realize the brevity of life, so that we may grow in wisdom."
It is scary if you are living your life away from God, but if you know that your days are numbered by the Lord, you become wiser on how you use your time, talents, and resources. You appreciate the people around you more, knowing you won't have them forever.?You also become more conscious that He exists. You are secure that your 24 hours, 7 days a week, are under the Lord's guidance and protection.
With the Lord, you are fully covered.
But if you live your life independent of, or indifferent to?God, you are living a vulnerable, worry-filled, unprotected life.
2 . Live your life as a worship to God.
Whatever 2017 may bring you, start each day offering it to Jesus, and end each day with thanks.
Worship doesn't have to be on our knees. Your work can be your worship to God.?Taking care of your family can be an expression of worship to Him, if done with the right attitude.
Make a decision to live each day in a way that will give the best results, and the most pleasure to God.
"Whatever you do, work at it with all your heart, as working for the Lord, not for men."
Colossians 3:23
So dear reader. may we live maximized, unfrozen lives in 2017!
Not frozen with fear or immobilized by worry. But every day lived with gratitude, expectant of the good things God has prepared for those that love Him.
Til next Thursday : >
0
Also in This Series: