Posted
January 26, 2017 under
Blog
Are You More of a Tortoise or a Bunny?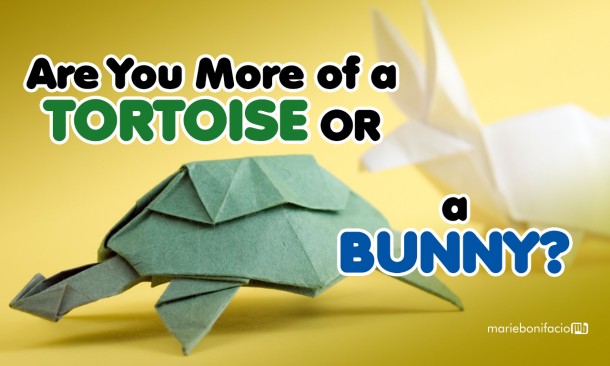 There's an old Aesop's fable about a race between a tortoise and a hare. Do you remember hearing that story when you were a child?
The story went this way: The hare (which looks so much like a bunny rabbit, but with longer legs and ears) was making fun of the Tortoise's ungainly appearance and slowness. Proud Mr. Hare challenged him to a race, which Mr. Tortoise readily accepted.
As soon as the signal was given, ZOOM! The hare hopped away! He dashed off, leaving the poor tortoise in a cloud of dust.
Halfway through the race, the hare, seeing how slow his opponent was, decided to take it easy, enjoy his surroundings, and take a nap. He wakes up, only to realize that he had overslept, and that the tortoise had reached the finish line and won!
Well, in 2016, an animal event in Thailand decided to do a real live race between a tortoise and a big bunny rabbit! Would Aesop's fable prove true in real life?
Could a slow turtle really beat a rabbit to the finish line?
As a crowd of onlookers cheered, the confident rabbit hops off, effortlessly reaching the middle part of the race track. Then, he stops, looks around.
In the meantime, the awkward tortoise just lumbered s-l-o-w-l-y along.
He never changed his pace or his focus. He just looked straight ahead as he progressed inch by inch.
The bunny, on the other hand, was easily distracted by the crowd. His cute, furry head turned to the left and to the right. Not even the gestures of the bunny's master could get his attention.
Well, believe it or not, the tortoise won the race -- in real life -- and the bunny lost! There's even a YouTube video that shows the actual event.
That got me thinking.
In terms of appearance, who was cuter? Bunny.
In terms of strength and agility, who had the advantage? Bunny.
In terms of skill and talent, who was the natural athlete? Bunny.
Who was born with more advantages in winning the race? Bunny.
But who won the race? Tortoise.
Not the best-looking.
Not the most talented.
Maybe not even the smartest.
But the most focused.
What was the secret of Mr. Tortoise? Diligence.
Mr. Rabbit had natural abilities, but he was poor in disciplining himself.
He was easily distracted and chose temporary stopovers, which made him lose sight of his main goal.
Sometimes, I see Mr. Rabbit in me when I try to pray in the morning:
"Good morning Lord! How are you today? Oh wait, let me just check if any text messages came in the night...Dear Father, please bless my day today, I have a meeting with . . . ?hmm, wait let me check my email" and off I go in many rabbit holes, forgetting my main goal.
Sometimes, we see Mr. Rabbit in obviously talented and smart young men and women who get derailed from their true calling by wasting their days on video games, the pleasures of the world, bad relationships, or drugs -- or even in marriages that could have gone the distance until one mate hopped off and found another playboy bunny instead.
One thing I am praying for is that enduring quality that Mr. Tortoise had: diligence, which means "careful and persistent work or effort."
It's even biblical! Take a look at these verses:
"Whatever you do, work heartily, as for the Lord and not for men."
Colossians 3:23
"Set your minds on things that are above, not on things that are on earth."
Colossians 3:2
"Whatever your hand finds to do, do it with your might."
Ecclessiastes 9:10
SECRET #1:
Diligence is faith in action.
Live each day focusing on what's really important, rather than on what seems pleasurable and easy.
SECRET #2:
Between diligence and talent, it is diligence that brings success.
The Proverbs highlight the importance of diligence:
In all toil there is profit, but mere talk tends only to poverty.
Proverbs 14:23
Whoever is slothful will not roast his game, but the diligent man will get precious wealth.
Proverbs 12:27
Whoever works his land will have plenty of bread, but he who follows worthless pursuits lacks sense.
Proverbs 12:11
SECRET #3:
Even Jesus practiced diligence.
Jesus practiced diligence in prayer:
And in the morning, rising up a great while before day, he went out, and departed into a solitary place, and there prayed.
Mark 1:35 KJV
He also practiced diligence in His purpose for living:
fixing our eyes on Jesus, the pioneer and perfecter of our faith. For the joy set before him he endured the cross, scorning its shame, and sat down at the right hand of the throne of God.
Hebrews 12:2 NIV
Now, dear reader, who do you appear to be?
Blessed with natural talent and skills, like Mr. Rabbit?
Or seemingly struggling with limited advantages, like Mr. Tortoise?
Which would you rather be like at the finish line, Mr. Tortoise or Mr. Hare?
Let these words guide you:
"Do you not know that in a race all the runners run, but only one gets the prize? Run in such a way as to get the prize. Everyone who competes in the games goes into strict training. They do it for a crown that will not last, but we do it to get a crown that will last forever."
1 Corinthians 9:24-25 NIV
0
Also in This Series: