Posted
December 29, 2016 under
Blog
End the Year F.A.T.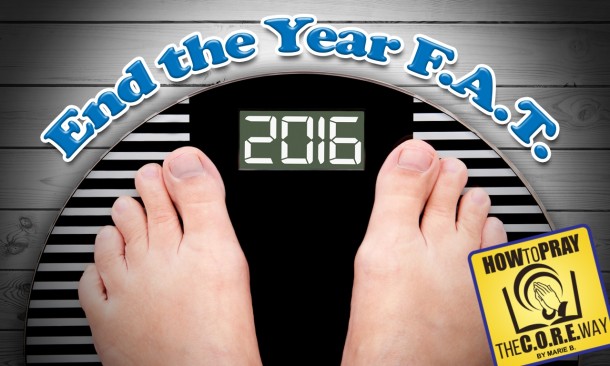 Would you like to know what I'm going to do as 2016 ends?
I (Marie) am going to assess my F.A.T.?(No, not the amount of food I've eaten during the holidays.)
Even now I'm still dreaming of this delectable Paper Moon cake that has, like, 1,000 layers of thin crepes and cream filling, as well as the juicy Roast Beef my sister Reg brought on Christmas day. (Dear Reggie, if you are reading this, just bring the same thing always!!)
Okay, back to topic . . .
I had an interesting chat with a friend of mine, who shared what they do as a family, at the end of the year:
They take a "gadget-free" family retreat.?They don't use their cell phones or wifi except on specific agreed hours.?They spend the time either reconnecting with each other as husband and wife, going on long walks, playing games as a family, etc.
Everyone buys a fresh journal each, and individually, they take time off to write the things they are grateful for 2016 and their goals for 2017.
When life gets too busy, it is good for adults and children, to purposefully take time off for some peace and quiet reflection.
As 2016 ends, I am going to end the year, F.A.T:
1. F - orgive others and forgive myself.
Begin 2017 light by letting go of the weights of 2016.?Yes, things could have been better. Yes, there were headaches and heartaches.?But, by the grace of God, you are alive and reading this.?God has seen you through the ups and downs of 2016.
I will end the year by asking God:
"Lord, who do I need to forgive?"
"Which record of wrongs need to be wiped clean?"
Why start 2017 holding on to the grudges of the past? It's time to erase.?Letting go of old hurts leaves room for God to do new things in your life.
Remember not the former things, nor consider the things of old. Behold, I am doing a new thing; now it springs forth, do you not perceive it? I will make a way in the wilderness and rivers in the desert.
Isaiah 43:18-19
It's also a good time to ask God to forgive you and for you to forgive yourself...?for your failures of 2016 and beyond.
If there is something that's been nagging at your conscience, listen, take it to the Lord, and tell Him about it. Confession to God is good for the soul.
Start 2017 free from heavy condemnation and regret, secure in the unconditional love of a Savior.
1 John 1:9 says:
"If we confess our sins, he is faithful and just to forgive us our sins and to cleanse us from all unrighteousness."
"...For I am convinced that neither death nor life, neither angels nor principalities, neither the present nor the future, nor any powers, neither height nor depth, nor anything else in all creation, will be able to separate us from the love of God that is in Christ Jesus our Lord."
Romans 8:38-39
2. A -ccountability
Sometimes priorities get out of whack in the busyness of life.?The end of the year is a good time to ask God:
"Lord, what should my priorities be for 2017? What needs adjustment?"
"What am I accountable for?"
"What relationships should I be spending time on?"
"How can I be a better steward of my time, talent, resources?"
Maturity comes when we stop blaming others for our lot in life, and start taking active responsibility for our lives.
"Search me, O God, and know my heart; Try me and know my anxious thoughts; And see if there be any hurtful way in me, And lead me in the everlasting way."
Psalm 139:23-24
3. T- eachableness
"Lord, am I still teachable?"

"Do I still listen to what You have to say to me, or do I have a habit of ignoring You?"

"Do I make daily decisions based on what is pleasing to You or on what is pleasing to me?"
Wisdom comes, not from knowing everything, but from having a daily relationship with the One who Knows Everything.
Lord help me be more teachable and more obedient to You, the older I get.?Why live a life of regret when you can be guided by the wisdom of God every day?
"Trust in the Lord with all your heart and lean not on your own understanding; in all your ways submit to him, and he will make your paths straight."
Proverbs 3:5-6
So dear reader, here's wishing you and me a blessed and F.A.T. New Year : >
"May he give you the desire of your heart and make all your plans succeed."
Psalm 20:4
"You crown the year with your goodness, and your paths drip with abundance."
Psalm 65:11
0
Also in This Series: