Posted
December 22, 2016 under
Blog
Dear Philip and Lucas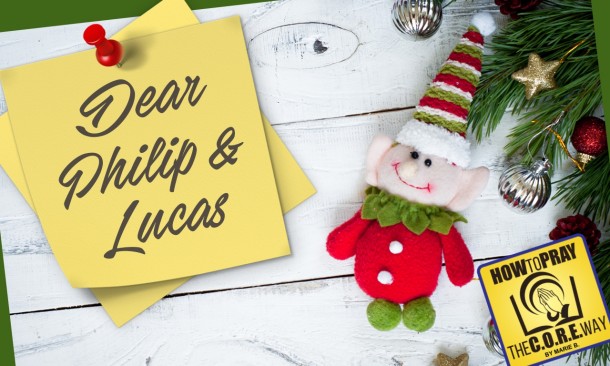 A few months ago, I sang to Philip:?"Who made all the trees that grow? God in heaven above!!!"
Testing his memory, I sang it again:?"Who made all the tree that grow?"
Philip replied happily: "Bob and Kevin above!" (Pixar's?Minion characters!)
So I thought of writing this Christmas letter for Philip and his cousin Lucas...
A Letter for 2 year old Philip and 7-month old Lucas
Dear Philip and Lucas,
Merry Christmas!! Everything looks different now, doesn't it?
There are bright lights all over the city, and everyone is busy!
There are boxes wrapped in red and green, and Christmas carols playing.?I'm sure the two of you will receive a mound of gifts from family, and I can't wait to see your happy faces light up when you open your wonderful presents.
Right now, Batman excites you, Philip.?And you think that the Minions, Bob and Kevin, made the trees grow!
But one day, you will meet a very special Person.?And that will be a very special Christmas for you.
I found a train set for you Philip, and a basketball toy for you Lukie.?I also wrapped a cute superhero stuffed toy, some chubby board books,?and more stuff!?Truth is, this Nana would have bought you the whole Toys R Us, if I could!
But there is One Gift I have been wanting you to receive, ever since you were born.?But I can't buy it. It's that expensive.?Not even the richest man in the world could pay for it.?The price is too high for anyone.
But God bought this gift for you, and He came on Christmas to give it.I hope one day, you will receive His gift, and say "thank you".
His name is Jesus Christ.?He is bigger than Batman, faster than Superman, and more satisfying than Lego.
On Christmas Day, we will have a birthday cake for Him.?This way, you will always remember that Christmas is not about you,?but about Jesus.
Then you will get the honor of GIVING out your gifts to other people first. This way, you will learn the joy of giving and thinking of others before yourself.
We will also read to you the Christmas story so you will know who I'm talking about, and why we celebrate Christmas.
"Christmas" without Christ is just "mas":
M-money
A- activities
S-shopping
That's how many big people celebrate the holidays.?Money, Activities, Shopping!?Even Nana forgets sometimes.
So let Nana share you a secret:
If all December is to you is money, activities, and shopping, that will be a very poor, unfortunate Christmas indeed.
But if you ever experience a December with no money, activities, or shopping, and the only one you have is Christ, you will still have the BEST Christmas of all.
Dear Jesus,
I am praying for the day to come that Philip and Lucas, and all who read this, will have a meaningful, wonderful Christmas.
That's the day they will receive
CHRIST
M-essiah
A-nd
S-avior.
"She will bear a Son; and you shall call His name Jesus, for He will save His people from their sins."
Matthew 1:21
"...because if you confess with your mouth that Jesus is Lord and believe in your heart that God raised him from the dead, you will be saved."
Romans 10:9
0
Also in This Series: