Posted
April 7, 2016 under
Blog
It's Okay to Eat Your Leftovers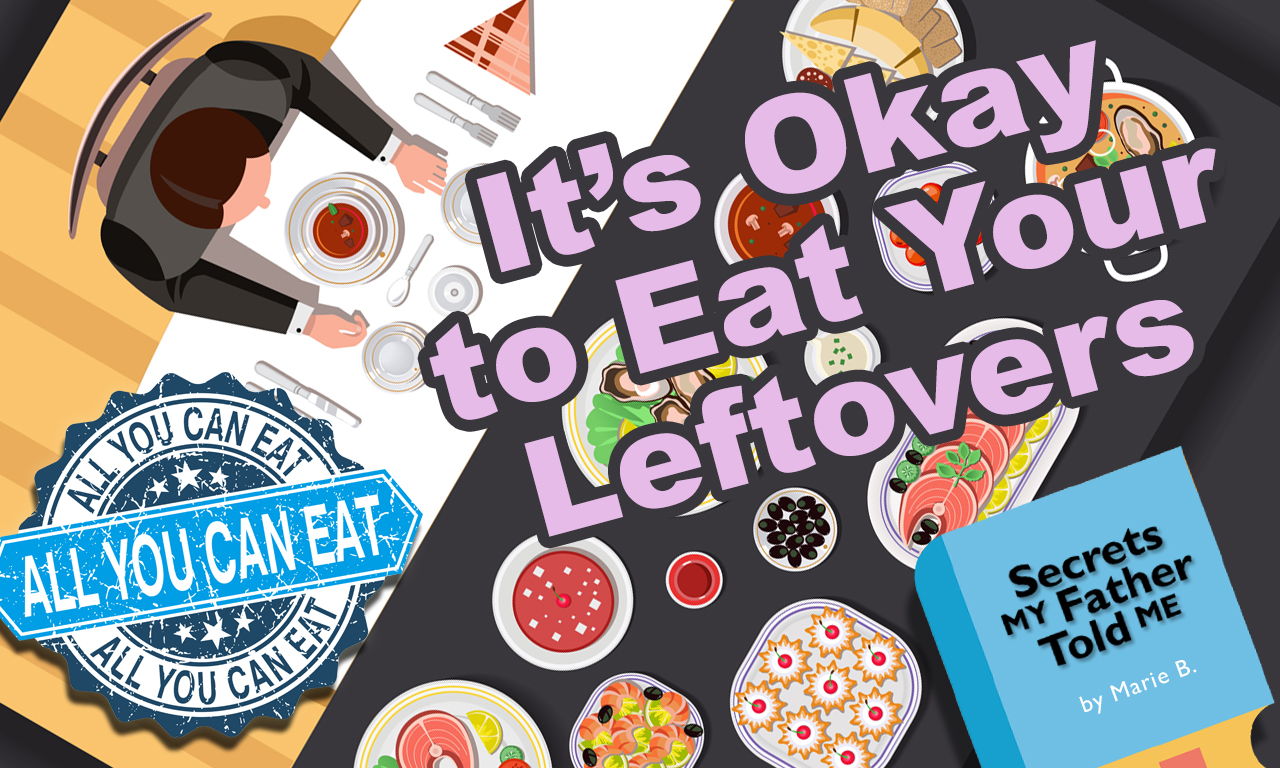 In my perfect world, I will never make a mistake.
My husband and I will never have a disagreement. My kids will be straight A students all their academic life; they'll never have a meltdown. After which, they will all impact the world for God, have problem-free family lives, while mentoring Bill Gates and Warren Buffet on finances, on the side. . . Steph Curry on sports.
My physical body will have no trace of cellulite, my mind will rival Solomon's wisdom, and my spiritual life will be excellent, as God and I will have an exclusive Viber chat group daily: Father, Son, Holy Spirit, and me.
But here I am, at the end of March, and I can't even remember all my New Year goals. I can't even respond nor read all my Viber or Whats App groups, nor the pictures my loved ones send.
Even my Bible Calendar, where I'm supposed to read four chapters everyday for 2016, hasn't been followed to the letter. Back story: I installed this "Blue Bible App" on my phone, which automatically lists for me the four chapters in the Bible I need to read daily. Sometimes, I get to read all four. Sometimes, I barely finish one or two. Then I rationalize and think, "I'll just carry over the remaining chapters and read all of them the next day."
Yeah right.
And this is where I'm tempted to give up, "This daily habit is too hard. It's unrealistic." Why even try? After reading the Bible, comes my prayer time. "Lord, I'm sorry for not reading a fresh batch of four chapters completely today. . ."
1. *God is not after our schedules, He is interested in our hearts.
Our devotion is not to our carefully crafted Dream Life or a Program; our devotion is to God and His Word.
But by the grace of God I am what I am, and His grace toward me was not in vain. On the contrary, I worked harder than any of them, though it was not I, but the grace of God that is with me.?
1 Corinthians 15:10
Here's apostle Paul, a super performer in his lifetime saying, Yes, I work harder than any of them, but realizing that, it was not I, but the grace of God in me.
New Day, New Grace. Don't let your failure or your success be the benchmark of your worth. Just begin again every day, with the new grace God gives you. New grace to love. New grace to forgive and repent. New grace to obey. New grace to read.
Our teachability, more than ability, is the key to success.
Not that we are competent in ourselves to claim anything for ourselves, but our competence comes from God.
2 Corinthians 3: 5
2. *It's okay to eat leftovers at times.
For some reason, I'm so hung up on the book of Joshua lately. (not my son Joshua, but the book of Joshua in the Bible : > )
Reading the chapters have been so rich with meaning for me, that I keep going back to chapters 1-4. I read them Monday, and kept coming back for them Tuesday and Wednesday. And then I'm thinking, what about my perfectly planned schedule???
That's when the Lord reminded me, It's okay.
The Bible is so rich with meaning, that sometimes you have to chew on it slowly, like a delicious wagyu steak (with apologies to my vegetarian friends). Or sometimes there's just so much goodness, that you have leftovers you want to keep coming back to, and enjoy all over again.
3.* KEEP EATING the Right Stuff.
Some people are spiritually weak because they don't eat any spiritual food at all. Others are spiritually anemic, because they just swallow whatever new concept others dish up.
There's nothing like opening your own Bible and reading straight from God's words; the words that can direct you, energize you, and fatten your soul. Sometimes, when you don't like what you're reading, just keep at it.
If you do it daily, you will have nourishment to be the person God has created you to be, and the strength to live the life He wants you to live, whether that involves Steph Curry or not.
This Book of the Law shall not depart from your mouth,but you shall meditate on it day and night, so that you may be careful to do according to all that is written in it.
For then you will make your way prosperous,and then you will have good success.
Joshua 1:8
0
Also in This Series: