Posted
October 29, 2013 under
Blog
Prepare your children for Halloween's onslaught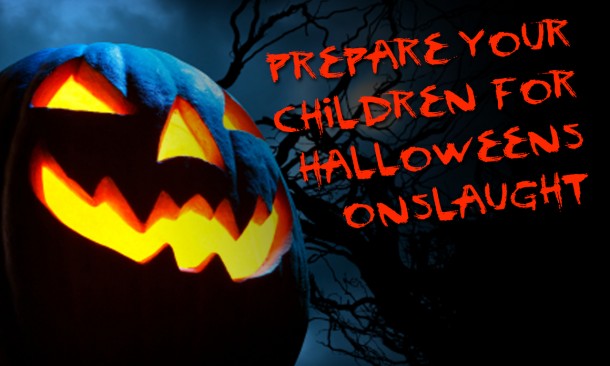 'Tis the season of ghosts, witches and spooky gimmicks once again. Television channels will offer supposed classics like Alfred Hitchcock's Psycho to editions of Dracula and the more the recent fetish of Zombie movies. NatGeo and Discovery Channel will momentarily ride the wave with their scariest selections.
Even children will be ramping on with trick or treat traditions clad in ghoulish outfits that parents will say are just plain cute.
Christians fall prey to the onslaught of horrific innuendos and excuse themselves by saying, "everyone is into it, there must be nothing wrong with it; besides what can we do about it - its everywhere."
But the Bible declares, …
"...God did not give us the spirit of fear but of power and love and self-control." 2Timothy 1:7
In this verse it is clear that fear is a spirit, in the same way that the Bible teaches us that faith is a spirit (2Corinthians 4:13).  The way faith affects every facet of our life, our relationships, health, work, finances, recreation and ability to believe for the best, fear has the same power.
We may think that watching a horror movie is an isolated movie moment not realizing we are allowing the spirit of fear to influence our lives. The power of a spirit comes largely in the form of influence. Let me explain.
I have yet to see a spirit: move my finger to click on a pornographic site, manipulate my arm and my mouth to take amphetamines, gulp alcohol or devour unneeded calories or make my feet go to places where I shouldn't go.
Nope, that's not quite how it works. Spirits don't do these things for us. Sorry, we can't blame demons for all the dastardly things we do. We do them because we allowed ourselves to be deceived and enticed by spirits (1Timothy 4:1) and we fell for their devious tricks and influence. Which brings us to how spirits work.
We end up in the wrong websites because the spirit of lust (Gal. 5:19) has enticed us and we acceded because of our lack of self-control.
When I relentlessly stuff things in my mouth it could very well be that the influence of the "belly-god" (Philippians 3:19) has convinced me that ingesting them is good for me. And yes, lacked the power and self-control to stop taking them.
And if I choose to go and do things against God's will, you can be certain that lurking behind it all is the spirit of disobedience (Eph. 2:2) that is influencing me.
When we allow spirits to influence us eventually this becomes the pattern of our lives and we believe that it is all just normal. Fact is the spirit is not living out our life, we are. But we have been deceived and influenced by them.
The spirit of fear is no different. It influences the way we think, act, live and relate with others. Believe it or not this spirit spies on us from the very day we are born. And influences our way of life unknowingly all the way to our final days on earth. This is the reason why we want to guard our children against the spirit of fear during this season.
Our children are now adults but through the years Marie and I have protected them from the onslaught of the spirit of fear during the Halloween season. When our children were little, relatives, friends and our neighborhood have broadcasted and promoted the spirit of fear at Halloween.
We are literally surrounded by it, we can't go anywhere without being exposed to it.
Over the next two days I will endeavor to post some of the things that helped us overcome the spirit of fear during the season. Instead the Spirit of God has enabled us as a family to enjoy the spirit of power, love and self-control in the midst of a world that chooses to imbibe the spirit of fear.
The next time the spirit of fear tries to influence you, remember that God has given you the power to overcome it. That power comes in the form of His love and your self-control.
4