Posted
May 20, 2013 under
Blog
,
Favorite Posts
,
Real Lives
The miracle that God wants to do to us
Last Saturday I had the privilege of having a one on one moment with Nick Vujicic, the Ozy evangelist and speaker. The first thing you sense when you are with him is pure unadulterated joy. Something that clearly comes from within. On Wednesday I will post the video interview that is really along the lines of how to connect to God, connect to others and connect others to God - The LEGO Principle.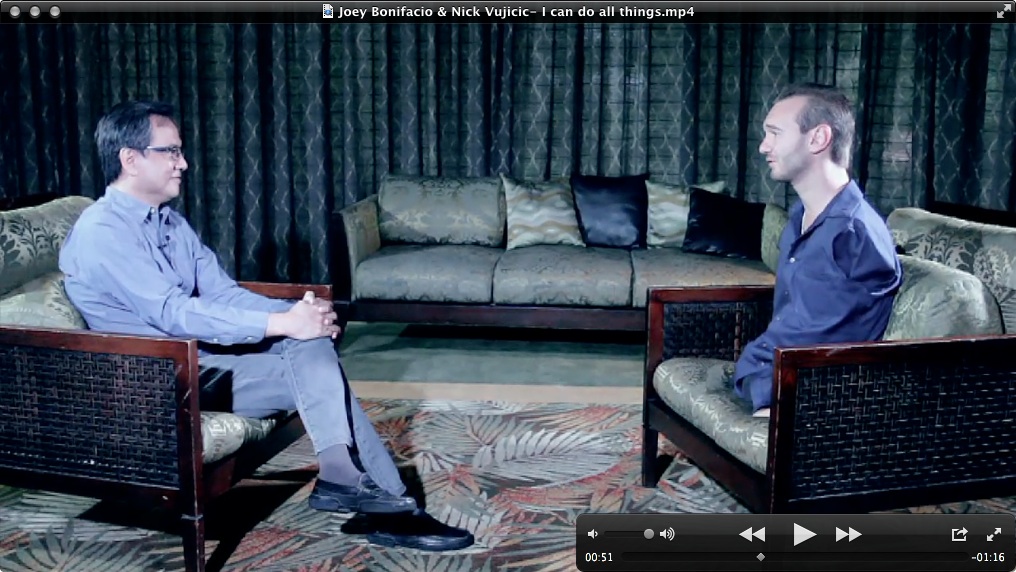 For today, I am recounting a story in Nick's first book - "Life Without Limits." It was an incident that was a turning point in his life. He was 24 years old when it happened. Nick was invited to speak at church in Anaheim California. Packed to the rafters he heard a man calling his name. The older gentleman pointed to a younger man who was carrying a child.
When the man lifted up the child he too did not have arms and legs like Nick. The effect on Nick is captured on this account from his book:
"I first felt compassion for him and his family. But then sharp memories and anguished emotions bombarded me as I was vividly brought back to how I felt at about that age, and I realized that he must have been going through the same things.
I know how he feels I thought. I've already been through what he will experience. Looking at Daniel, I felt a connection and a surge of empathy for him.Old feelings of insecurity, frustration, and loneliness flooded back, pulling the air out of my lungs.
Then I had a revelation that brought a sense of calm. When I was growing up, I had no one who shared my situation who could help me guide me, but now Daniel has someone. I can help him. My parents can help his parents. He doesn't have to go through what I went through."
According to Nick this was a turning point in his life. He had already been serving God and reaching out to others but the encounter was a "life changing moment." He writes:
"In that life changing moment when I looked out and saw Daniel held above the crowd in that church, I realized that I'd become the miracle that I'd prayed for. God had not given me such a miracle. But he had made me Daniel's instead.
I was twenty four years old when I met Daniel. When his mother, Patty, hugged me later that day, she said it was like stepping into the future and hugging her own grown-up son. "You have no idea. I've been praying that God would send me a sign to let me know that He has not forgotten my son or me,' she said. 'You are a miracle, you are our miracle.'"
The simple thought I had as I read this story is how God has created each one of us as the miracle for someone else. Often we are too busy focusing on ourselves that even our prayers are directed in wanting miracles for our own lives. Today, as you pray, ask God to make you the miracle that someone else is believing Him for. It is often the miracle that God wants to do but one we often miss.
Have a great week!
0