Posted
February 27, 2013 under
Blog
A vegetarian wedding and the women in my life
I'm sitting in Changi Airport in Singapore waiting for my two am flight to Johannesburg. I am off to meet with the leaders of the Every Nation Church there.
In my phone I found this picture below of a wedding I attended last Saturday in Manila. Ever present in Filipino celebrations is a roasted pig or "lechon."  But since the couple were vegetarians the lechon in the picture is actually their wedding cake. It was an evening of creative dishes, non had a shred of meat in them, it was all healthy.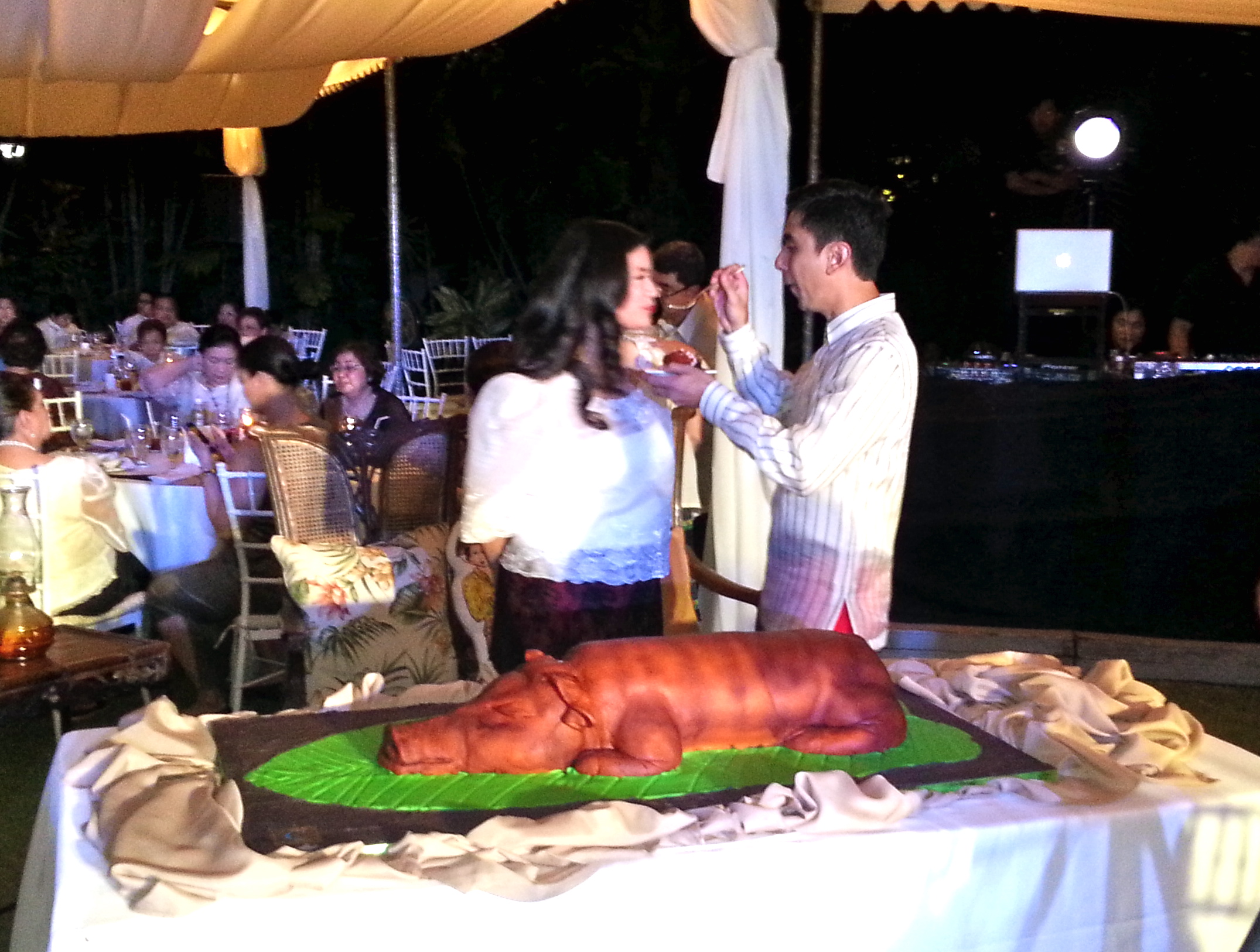 It's always good to see newly weds. They are a good reminder of how it all starts, fresh, new, exciting and full of adventure. Something that easily gets lost over time. My wife Marie was asked to be a "Ninang" the Filipino word for godmother. That accounts for her red dress below that is a traditional formal Filipino attire.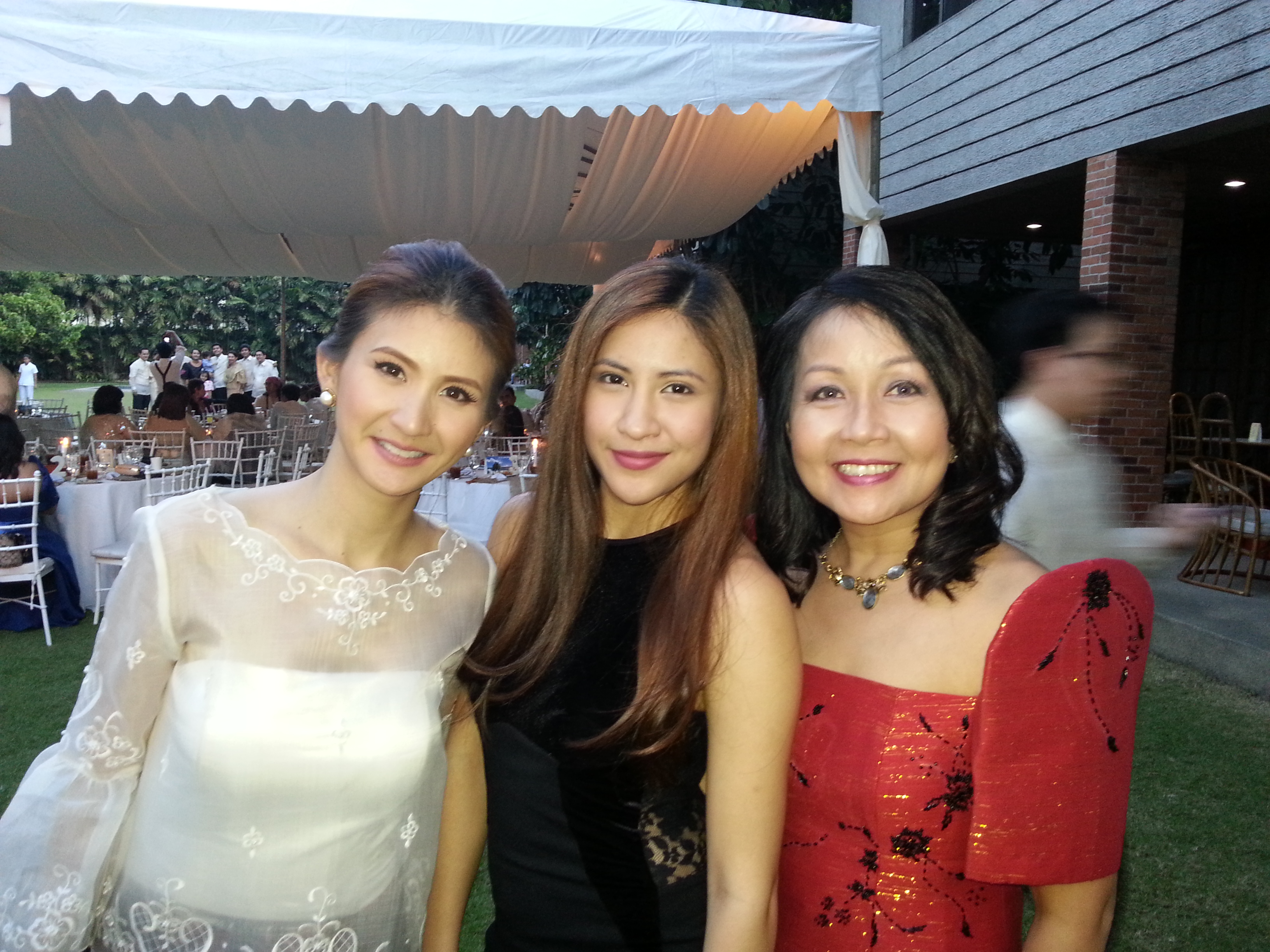 Often when I attend weddings I am the officiating minister, that evening I was just a guest. That's probably why I noticed more things than I usually do.
At the wedding were my three sons, my daughter in law Carla (left) and soon to be daughter-in-law Kristie center. I've never had this many girls in my family. Carla who stood as bridesmaid to her sister gave a beautiful message. For sure Joshua and Kristie were looking out for ideas they could pick-up for their own wedding in November.
I on the other hand was having flashbacks about my own wedding more than 30 years ago. Here were my thoughts:
1. Little money but lots of love. Yes we did not have a lot of money but that also meant we did not have a lot of concerns. As the years pass marriages can become about how much money we have stored away and things we have. Bills, accounts, contracts and various concerns take precedence and steal the joy of the marriage.
Like our relationship with God we can get enamored with wanting His blessing rather than desiring His love. What really mattered despite the shortages was we had each other. Similarly when we first start walking with God the only thing that mattered was Him. May God restore to you the joy of your salvation.
2. Meager resources but eager adventurers. Yes we did not have a lot of resources, all the better to enjoy the adventures of life. As a marriage ages couples become less adventurous and often take the safe road. Decisions are based on how much resources we have. When we're new and starting out we often don't have a choice. Life is an adventure. Adventure is all about mystery the kind of stuff that spice up life.
This is true of our Christianity. May the Lord bring back the days when we willingly went and did risky stuff for Him even when we had limited resources.
3. Didn't have it all together but had each other. Yes we did not know much and did not have all our boxes checked but we had each other.
Wisdom is a huge and is important. However, sometimes we can end up focusing on making wise decisions that don't enhance our relationship. It is true that wisdom is more valuable than precious stones but our relationships are far more valuable. Similarly Jesus willingly died for our sins that to the world, something that the world will never see as wise.
"...but we preach Christ crucified, unto Jews a stumbling block, and unto Gentiles foolishness; but unto them that are called, both Jews and Greeks, Christ the power of God, and the wisdom of God. Because the foolishness of God is wiser than men;..." 1Corinthians 1:23-25
0