April 2012
Posted:
April 29th, 2012 |
Filed under:
Blog
|
No Comments »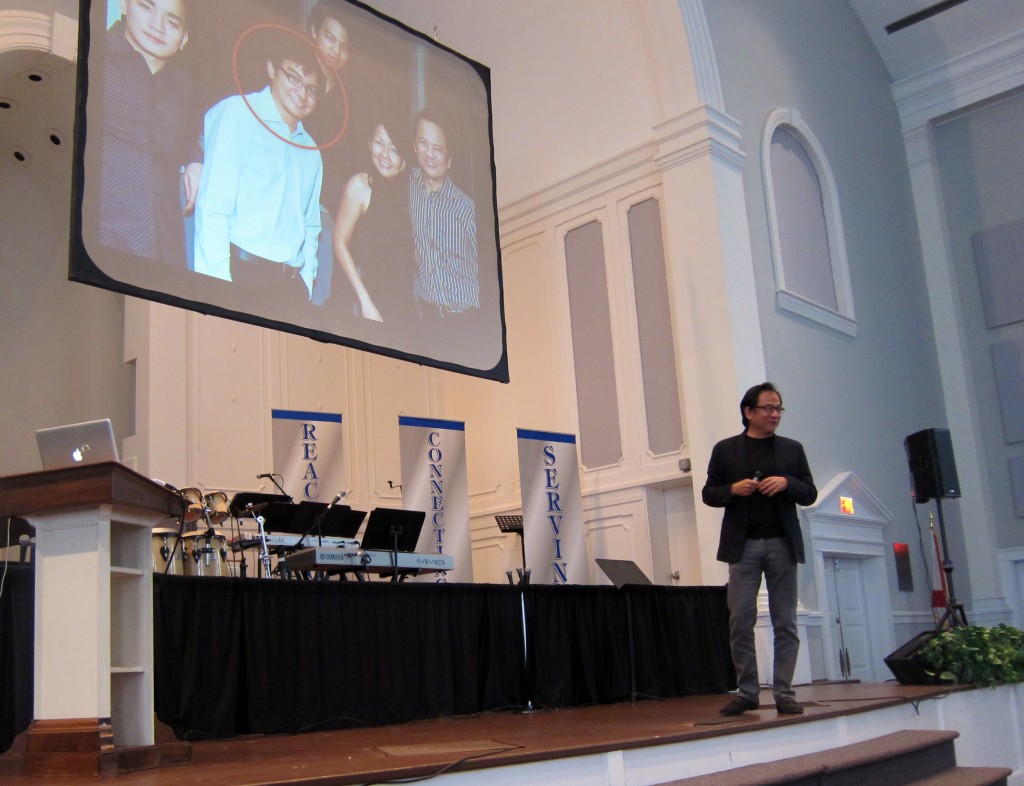 Got to minister at the Orlando World Outreach Center the Every Nation church led by  former Washington Redskins defensive lineman Tim Johnson. Thanks Tim really enjoyed the fellowship at your church. Picture above shows the moment I was introducing my family to the congregation.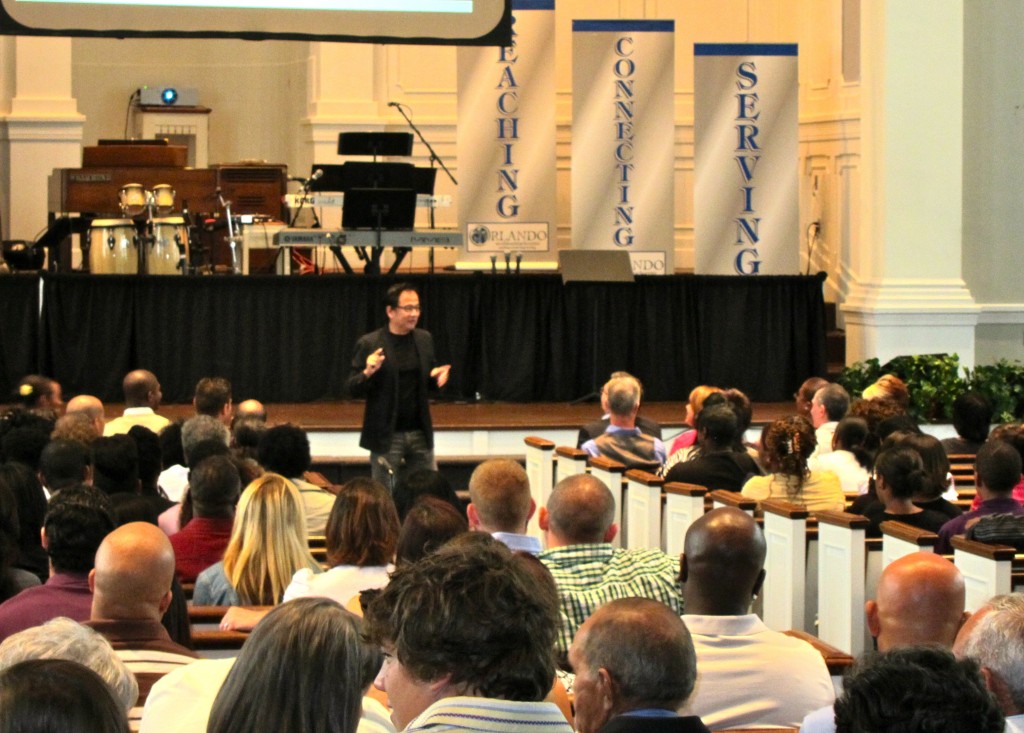 Loved the multi-ethnic, multi-generational congregation. This is the way church ought to be in the times we live in. The church is the place where genuine community can take place. Young, not so young, old, poor, not so poor, rich and every race and color and language imaginable – together in nothing and in no one but Christ.
"After this I looked, and there before me was a great multitude that no one could count, from every nation, tribe, people and language, standing before the throne and before the Lamb. They were wearing white robes and were holding palm branches in their hands." Revelation 7:9
---
Posted:
April 28th, 2012 |
Filed under:
Blog
|
No Comments »
If you have been tracking my posts I am presently in Florida to attend a gathering of Christian business leaders from five continents. I have been asked by the organizers to facilitate one of the 12 tables for these amazing folks. I am also traveling with my second son David. He needs a break, besides its summer in the Philippines. Haven't had much time with him since he has moved out of the house. As a little boy David spent gobs of time playing with LEGOs. These days as a businessman he hardly finds the time to do any playing.
At the end of the conference I brought David to LEGOLand Florida. And as you can see from the expression in his face he is back to his boyhood. Thankfully with American summer still a ways off the park was not crowded. It was quite amusing that most of the people in the park are parents with little children (see background). And there I was with a giant kid.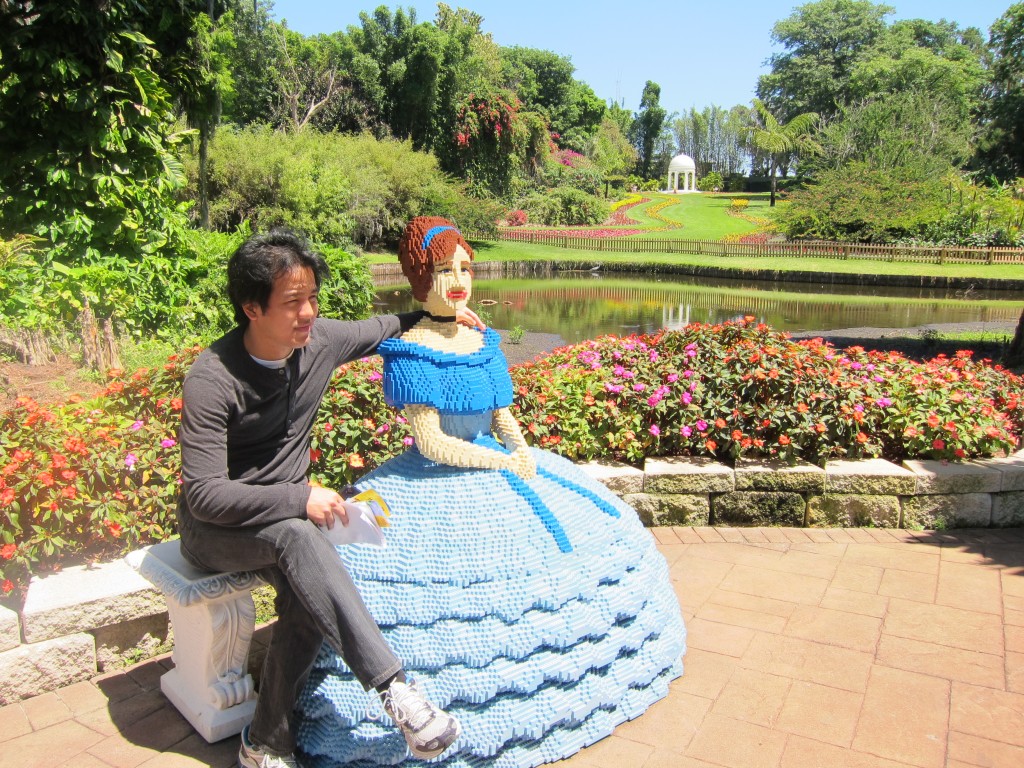 Here's David with a Southern Belle. Meanwhile back at the hotel the big boy plopped on his knees opened his LEGO and played  just like when he was a kid.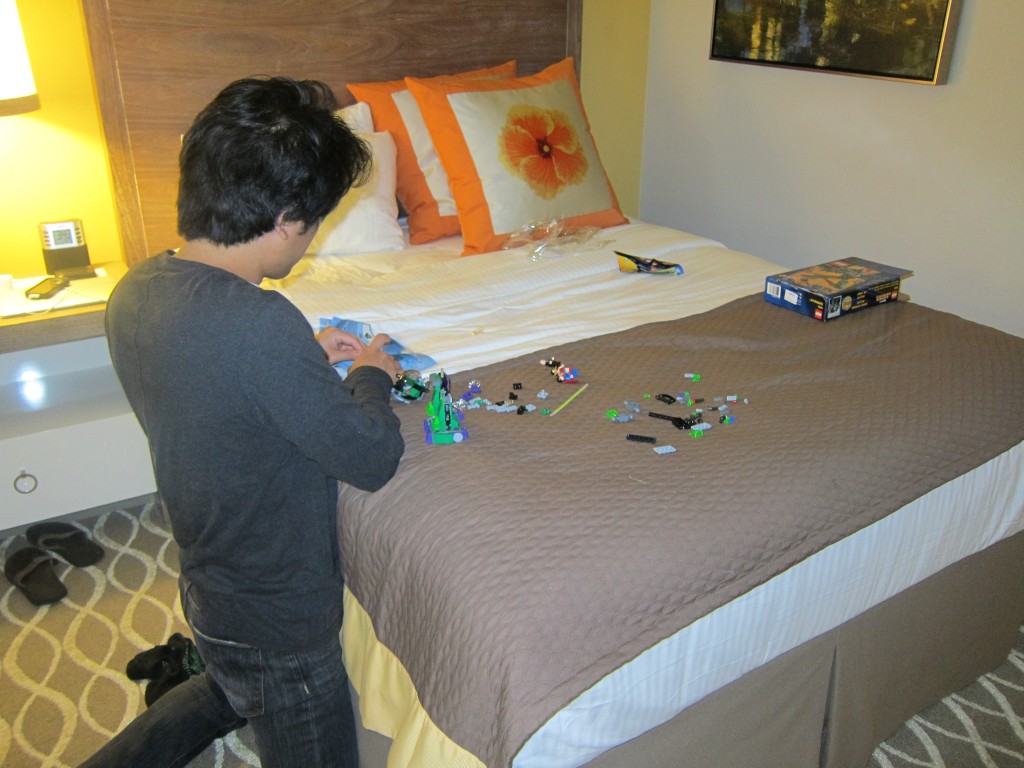 One of the issues the world has with Christianity is oftentimes believers are seen as pious, dedicated and hard working (which are all good) but don't know how to play. Life becomes one of drudgery. And yet the Bible constantly reminds us that we should learn to relax and enjoy. In fact we are commanded to take Sabbath rests, moments of letting go so we can enjoy, worship and play.
Jesus did tell us, "Truly I tell you, unless you change and become like little children, you will never enter the kingdom of heaven." Jesus did not say – if you have faith like little children but be like little children. And what is it that little children know how to do so well – PLAY!
When was the last time you played? What does real playing look like? Almost always its never serious. Funny how we have turned simple times of play into competitive activities that require children to perform and compete (think soccer, basketball and even video games). Don't get me wrong there is a time for everything, including sports and competition. But genuine play is always pleasurable and authentically free of worry. From LEGO Land to his bed David's business concerns and worries melted away. He was too preoccupied playing.
Watching David kneeling down to play with his new LEGO brought a flood of memories of playing the toy with him and his brothers. It was good reminder that as Christians we need to be like little children who know how to play. I find that when I play I don't take myself too seriously. My spirit soars into places that my busy life does not know even exists. There lie some of my best revelations. Jesus did say:
"I praise you, Father, Lord of heaven and earth, because you have hidden these things from the wise and learned, and revealed them to little children. Yes, Father, for this is what you were pleased to do.
---
Posted:
April 25th, 2012 |
Filed under:
Blog
|
No Comments »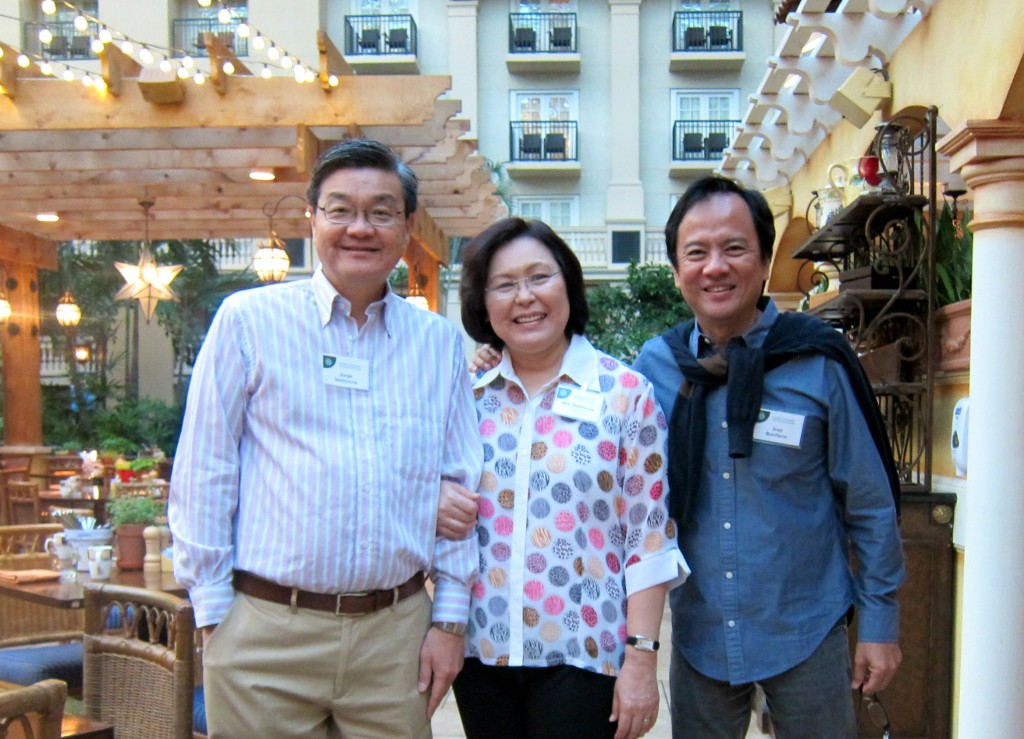 The couple in the picture above is Jorge and Marcia Nishimura of Brazil, whom I met at the Global Kingdom Netwrok Partnership. This gathering of Christian political and business leaders was unique in that the attendees came from five continents and from a variety of denominations. I have been asked by the organizers to facilitate one of the 12 tables during the three and half day event.
Over breakfast  Jorge and Marcia told me an interesting story. The story began back in  Taisho and Showa Eras of Japan (between 1920 and 1932) about a young man named Shunji. Second born to a family of Christians, Shunji had dreamed of becoming a pastor and went to Bible school. In the years of late 1920s and early 30′s, Japan's economy was in dire straits. Typically the second son was sent away to alleviate the family's condition.
Shunji was sent to Brazil through the Rikkokai Mission. Rikkokai was started back in 1867 during the years when Christianity suffered much persecution in Japan. Arriving in Brazil at the age of 21 with no connections, no money, unable to speak Portuguese Shinju managed to survive his plight. Initially working as a farmhand he saved enough to go to school in Sao Paolo. While there he took on a variety of odd jobs that included becoming a waiter and repairing a variety of implements. Eventually graduating from engineering, Shunji married. With a failed business and unable to provide for his young family he moved to the agricultural town of Pompeia. It was here that Shunji would invent his first agricultural sprayer – the Jacto.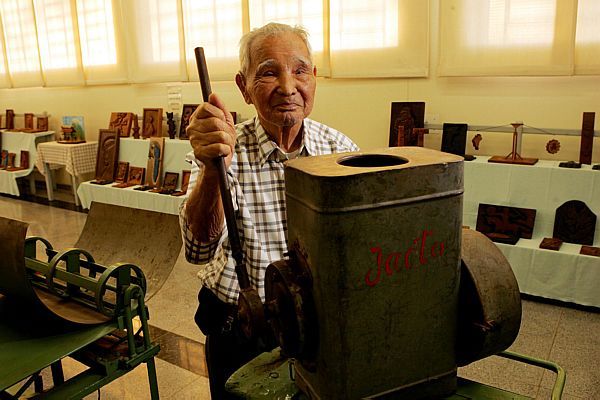 Through the years Jacto would be improved into one of the world's most reliable farm sprayers. Today there are over 80 models sold in over 100 countries worldwide. The company has over 3,000 employees worldwide.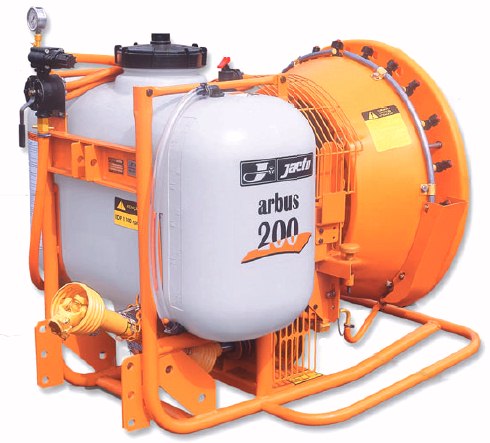 Today Jacto's  products consists of  hand held, mounted units to large scale sprayers.
An array of world class products that is respected all over the world.
Listening to Jorge and Marcia was a treat as once again we see that God guides the destiny of His people, wherever they may be.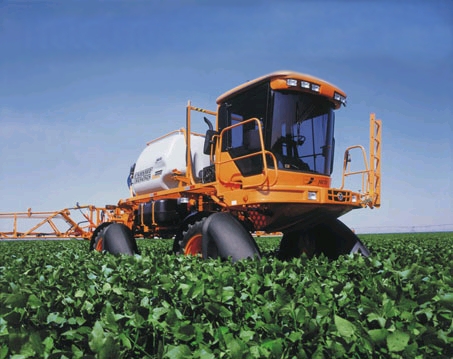 Jorge is presently the Chairman of the Board of Jacto. He and his siblings have inherited the company from their father Shunji.
Today Jorge and Marcia serve in a ministry known as Unibersidad de Familia. The University of the Family.
The ministry has helped preserve marriages and relationships by doing classes on the family. A total of 700,00 participants have gone through their ministry.
I write Shunji's story to inspire all of us to stay true to God's will and purposes for our lives despite how things may look like at the present.
God is in control even at times when we don't think He is.
"So then, it was not you who sent me here, but God. He made me father to Pharaoh, lord of his entire household and ruler of all Egypt." Genesis 45:8
---
Posted:
April 23rd, 2012 |
Filed under:
Blog
|
2 Comments »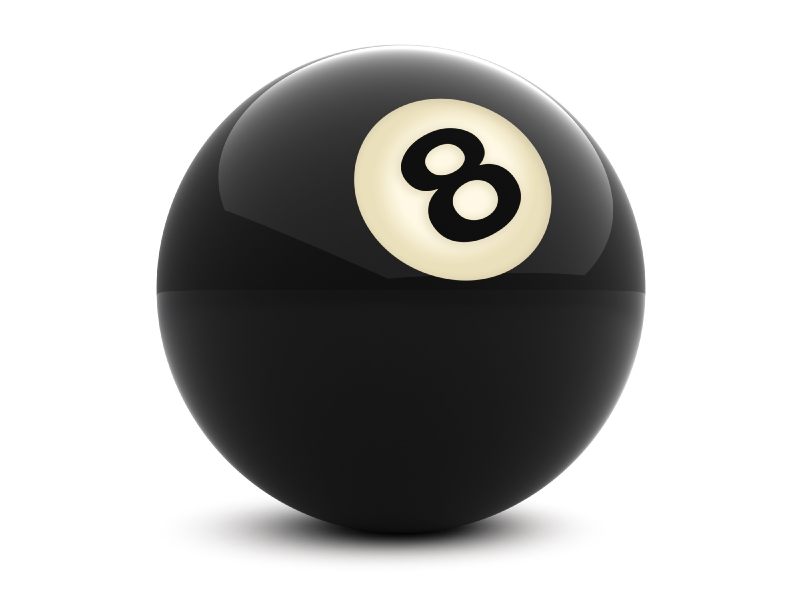 Just landed last night in Orlando. Jet lagged and getting ready for a week long conference. After 24 hours of driving to the airport, immigrations and security lines, Manila-Tokyo-Detroit- Orlando flights, I needed to take my usual Monday reboot. Back in the 1980s it was author Gordon MacDonald who helped me value taking day-offs seriously regardless of where I find myself.
I no longer remember the exact words of Gordon but the idea has remained a vital part of my Sabbaths. I've grown to call it the 8-ball Principle. Here's how the principle goes:
The start of each week is like billiard balls that are racked up in an orderly fashion. Ball 1 in the front, one striped and one solid color in the top corners and the eight ball placed neatly in the center of the triangular rack. As our week starts the neatly racked balls go through a break that causes the pieces to go in a variety of directions. In the course of the week some balls drop into pockets and are no longer in view.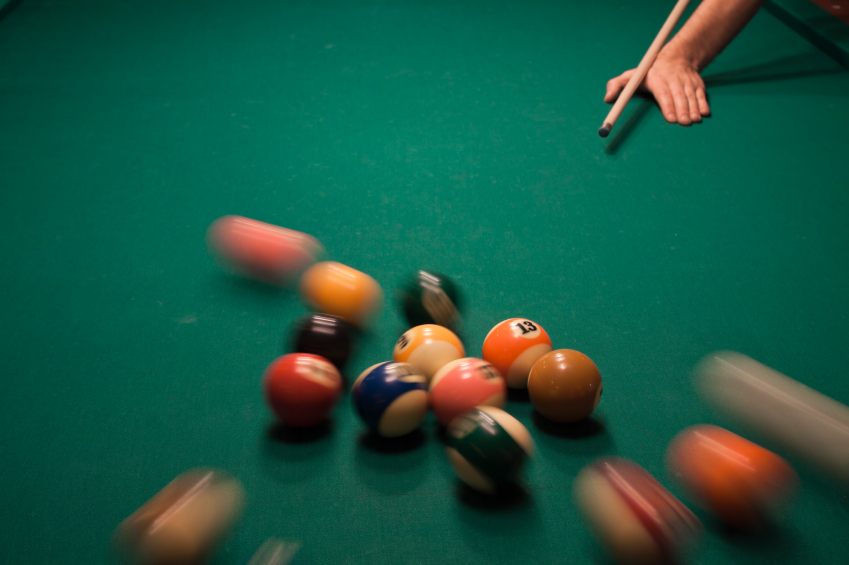 Over the years I have taken MacDonald's illustration and created my own version. The 1-ball is my Tuesday (Mondays for those of you in business). It is the one that gets the first smack and usually  the first to go into a pocket and quickly disappear from view. Somewhere in this mix of balls is my personal quiet time, my relationships, responsibilities, physical health and other activities. The natural progression of the week usually causes the balls to fly in different directions – priorities get off course and the week is not as orderly as when it started.
The eight ball is my heart. Its the one that goes into the center of my triangular rack. The one I need to keep my eye focused on and protect as best as I can. It's the same one I need to put back in center place if and when it accidentally drops into one of the pockets. MacDonald pointed out that like billiard balls we need to find the pieces of our week and rack them up in order again. This way every piece of our life has a way of getting assimilated back in their rightful place.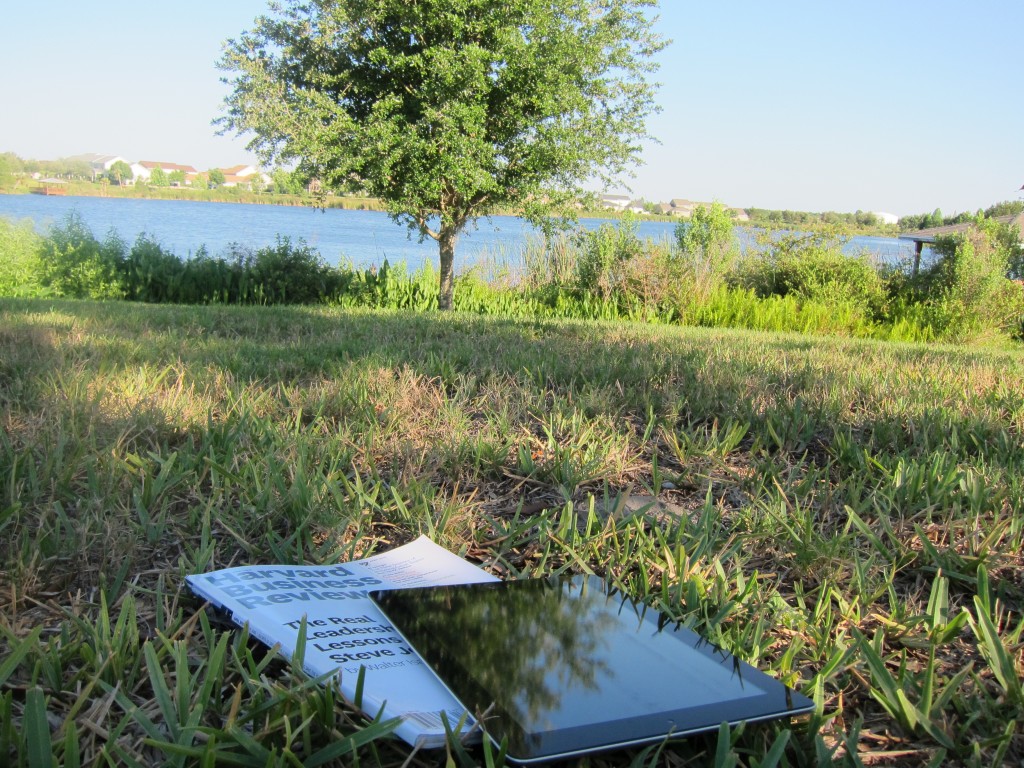 Sabbaths are designed to recollect the balls and rack them ready for the coming week. A simple discipline that allows me to find my heart and the various pieces that resets me for the coming week. Actually when you think about it, it is not a bad idea to regroup the balls of our life at the end of each day. For years Mondays have worked for me – they still do.
Read my Bible, Harvard Business Review's April 2012 issue under a tree by the lake and listened to the birds today. And the balls are back in place, specially the eight ball. Thanks Lord, no one restores quite like You!
"But seek first the kingdom of God and his righteousness, and all these things will be added to you." Matthew 6:33
---
Posted:
April 21st, 2012 |
Filed under:
Blog
|
5 Comments »
Just finished watching this brilliantly produced video. Another example of great marketing. Watch it and you'll understand what I mean.
I've always wondered why the people of the kingdom of God shyly use marketing. And companies like Coca-cola and Procter and Gamble maximize its benefits. My guess is Christians have a negative vibe with what the word marketing connotes and as such avoid it altogether. In simplest terms marketing is all about a presentation of values. Sadly products that have limited value are so well presented that they are the ones that get consumed. While the offerings of the Kingdom, love, joy, peace, patience get sidelined for lack of marketing.
Marketing is best understood with the 5Ps: Product, Price, Position, Packaging and Promotion. Whether that's Coca-cola or as in the case above Tide and Pampers it all boils down to these five Ps. When you think about the kingdom of God you would think it should be the most influential thing on earth. But many times it is not.

Think about it – as for product the kingdom has the ultimate best in Jesus. Nothing gets better than that. As for product supply what we have is unlimited in quality and quantity. As for price the kingdom's product is free. Imagine such a product. The ultimate best with unlimited supply that's free. Wouldn't you think people should be lining up for it? As far as positioning is concerned it can be positioned for all people at all levels: rich, poor, smart, not so smart, man, woman, young old, literate, illiterate, etc.
So why isn't it the over arching thing people are thinking of and are looking for? With these advantages why isn't the Gospel the most accepted, used and influential thing on earth?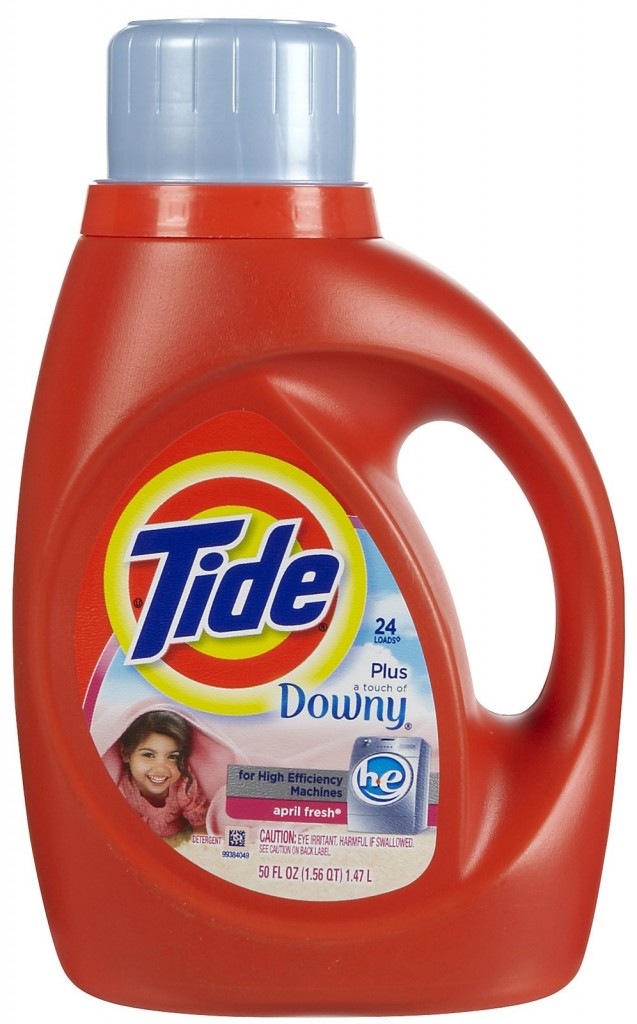 Sometimes the problem boils down to a simple matter of packaging and promotions. Its time the kingdom learned to do some marketing. To have the ability to communicate the unlimited value of Christ in their life.
Maybe we can learn from Coke and Procter and Gamble.
They just keep repositioning, repackaging and repromoting to convince people that Tide can make your robes white and clean. And telling us that Coke is "the real thing."
And people just keep coming. Same old product, same old value – communicated in a new way.
The big question is did Jesus do any marketing? Absolutely. When He met the Samaritan woman he presented the value of His drink by getting her interested. He positioned His product in a way that she could understand and appreciate (John 4:7-10). He packaged it in a way that she could accept it (John 4:13-14) and then He got her to promote it (John 4:29).
"Jesus answered, "Everyone who drinks this water will be thirsty again, but whoever drinks the water I give them will never thirst. Indeed, the water I give them will become in them a spring of water welling up to eternal life." John 4:13-14
---
---
Posted:
April 14th, 2012 |
Filed under:
Blog
|
No Comments »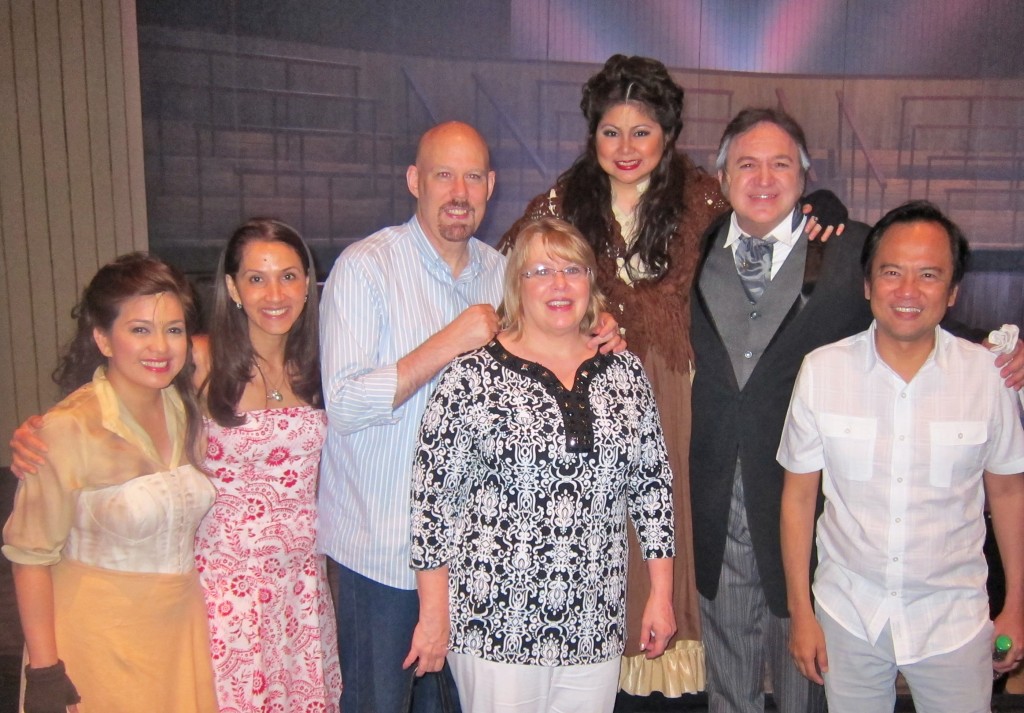 Last Saturday Marie and I had a great time watching Repertory Philippines musical Dr. Jekyll and Mr. Hyde at the Greenbelt Theatre with our friends the Barkers.
Picture shows from left: Trisha Amper Jimenez (who gave us our tickets and played Emma's understudy and a part of ensemble), Menchu Lauchenco Yulo (the director), Paul and Aleta Barker, Mayen Bustamente Cadd ( as Lady Beaconsfield) and her  husband  and Steve Cadd (as Sir Danvers Carew). Trisha and the Cadds are members of Victory. Thanks Trisha we really enjoyed ourselves.
If any of you are looking for great play to watch, here's one I highly recommend. But don't bring the kids, the play's brothel scenes was suggestively intense.
Apart from great acting and singing the spiritual undertones of the play could not go unnoticed. That's why I'm using it as my day off meditation this week.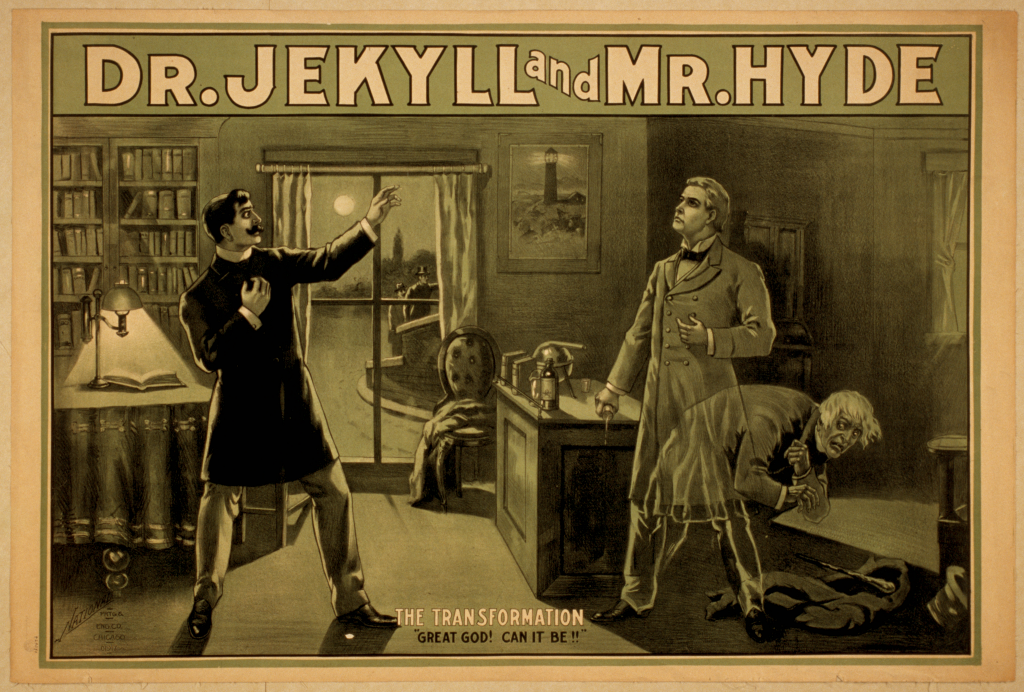 It was Fr. Sullivan, my English literature teacher in high school who insisted on reading the classics. He tried hard to convince us that Beowulf was exciting and worth the read. Maybe for children in England during the Middle Ages but not a fifteen year old in the seventies in the Philippines.
I must admit there were a few that were interesting, Robert Herrick's "To the Virgins'" and some of Alfred Tennyson's works. And of course  Robert Louis Stevenson's Victorian classic: "The Strange Case of Dr. Jekyll and Mr. Hyde." The idea of a man struggling between two personalities with hints of Sherlock Holmes had enough excitement even in the seventies. I was never the literary kind. But I still thank Fr. Sullivan for the exposure.
Dr. Jekyll's name was not unfamiliar. Back in the sixties I have watched a variety of renditions of the story from  "The Adventures of Mighty Mouse" and other cartoon adaptations. I didn't have the gall to tell the old priest that their versions were more entertaining than the original. But what did I know, I was a kid.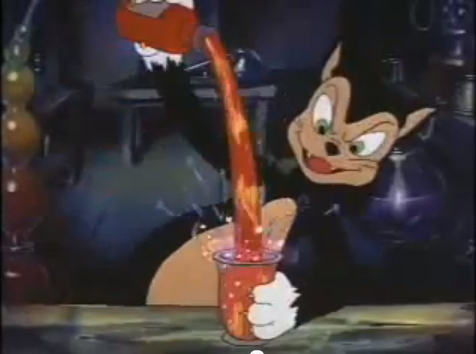 Watching the play as a 54 year old last Saturday, and having a better understanding of the human soul was a treat.
It was clear to see that even in Victorian England that prided itself with a greater sense of social and sexual restraint, things were not under control. You could see why Stevenson's classic was a hit.
It bled with the reality of the human soul's yearning to explain the wrestling between good and evil within. What Freud defined as split personality is really what the Bible simply explains as sinful man. Struggling to survive the inner wrestling of wanting to comply with God's laws but unable to do so.
Dr. Jekyll who knew the fundamentals of what was righteous but on the inside had a wanting for the vile, the beastly and the wicked. His answer was a potion that could transform him and justify the fight within. Only to gradually be taken over in a fight that cannot be won. Sin always wins and takes over.
This was the warning that God gave Cain -
"If you do what is right, will you not be accepted? But if you do not do what is right, sin is crouching at your door; it desires to have you, but you must rule over it." Genesis 4:7
God was warning Cain, its one thing to be tempted to sin from without, its a totally different matter to let the vile creature in. Dr. Jekyll unable to contain the lusts of his heart took the potion in the hopes of containing and assuaging his passions, if not altogether justifying his duplicity. But sin is systemic and as God warned has a life in itself.
That's the true picture of our state of affairs. Sin is in our system. Unless taken out we will forever wrestle with it from within. And there is no concoction that can save us from its venom. Like Henry Jekyll we try to manage Edward Hyde - a lost cause that has a declared winner even before it started and that only ends in death.
We cannot manage behavior.For it is only an outworking of something from within. There is only one potion to combat the sin within – Jesus.
"Jesus said to them, "Very truly I tell you, unless you eat the flesh of the Son of Man and drink his blood, you have no life in you." John 6:53
---
Posted:
April 13th, 2012 |
Filed under:
Blog
|
1 Comment »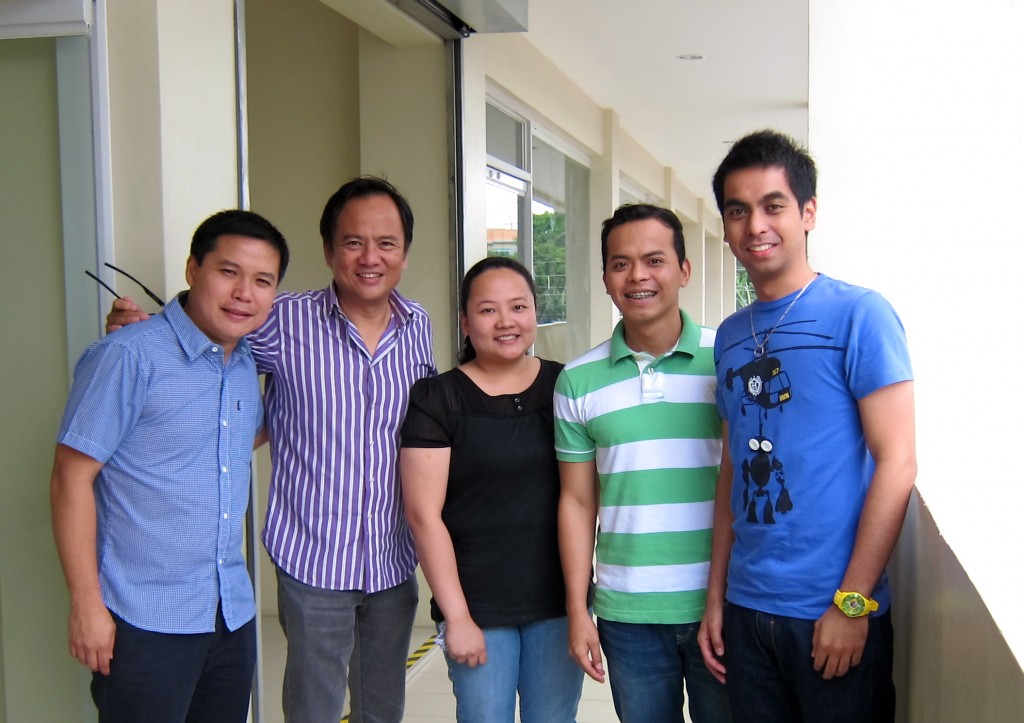 Had a great time today with Pastor Raymond de Guzman of Victory Lipa in Batangas and their leadership team. Picture above is with pastor Raymond de Guzman (extreme left), with LifeBox campus and youth leaders, Reggie de Chavez, Mark Mayo and Joco Latayan.
Raymond and his wife Malou are good friends of our family . They have been laboring in Lipa for over 10 years and have raised amazing next generation leaders.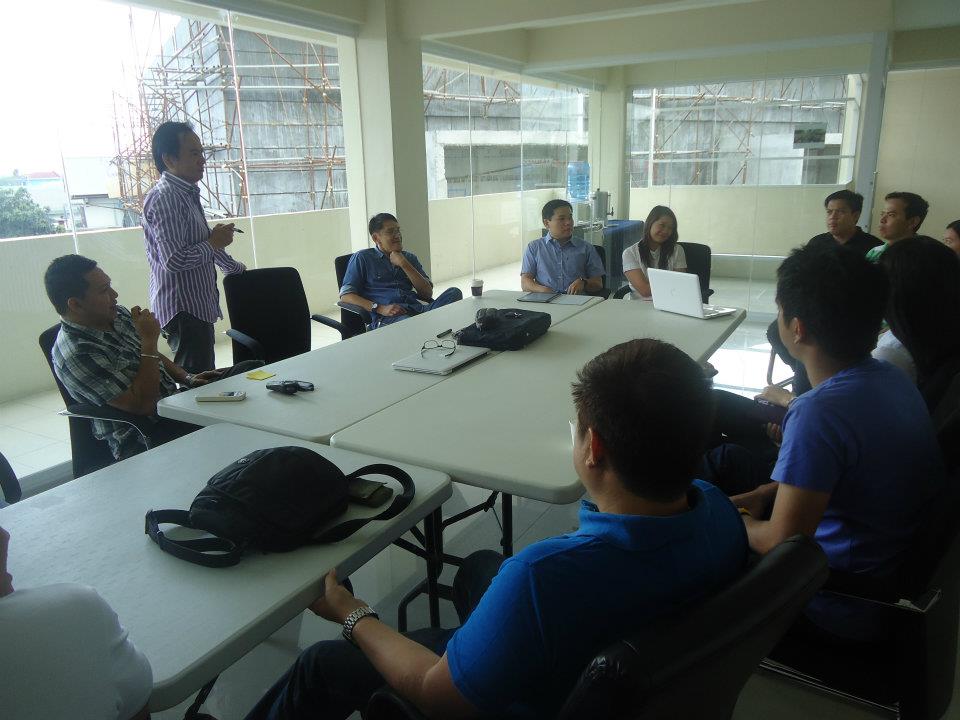 Spent the morning planning with the team in preparation for the completion of their new facilities.
Vitory Lipa is one of the fastest growing Victory churches outside of Metro-Manila. It also has a very active campus ministry. Looking forward to what God is about to do through this team.
Shared to the team about the importance of team ministry and creating lanes for everyone while valuing and appreciating each ones role.
"For just as each of us has one body with many members, and these members do not all have the same function, so in Christ we, though many, form one body, and each member belongs to all the others. We have different gifts, according to the grace given to each of us. Romans 12:4-6a
---
Posted:
April 11th, 2012 |
Filed under:
Blog
|
No Comments »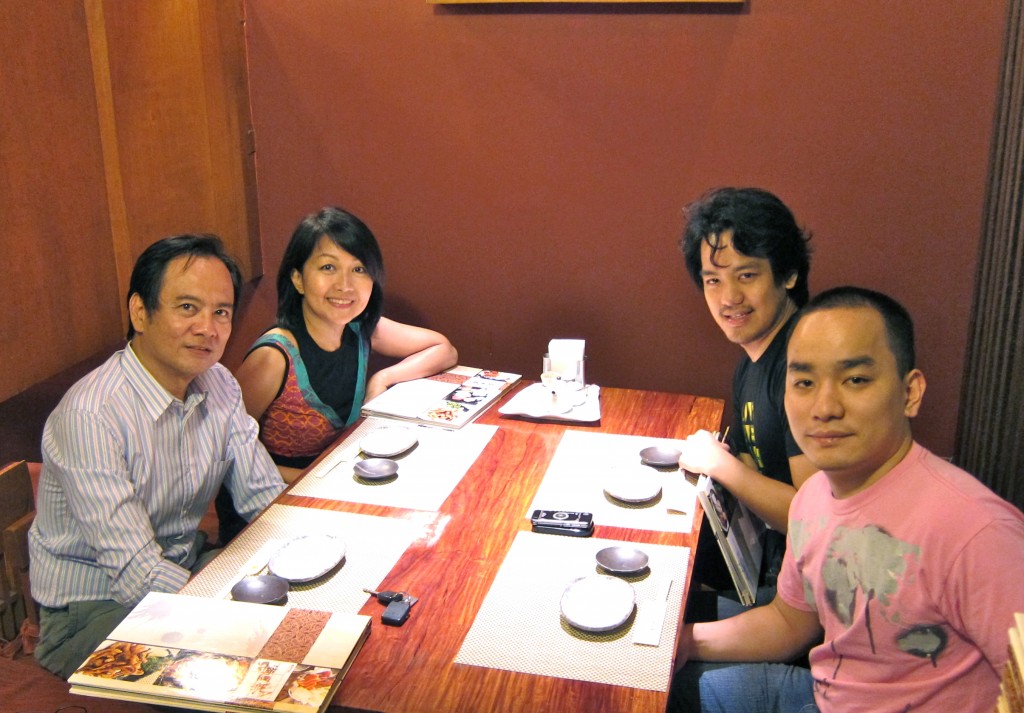 David my second son celebrates his 28th birthday today. Happy birthday Dave. We love you very much.
Lord thank You for giving us our son David 28 years ago. May You continue to draw him closer to You. May You grow Him in the truth of Your word and grow in trust, love and forgiveness.
"Children are a heritage  from the LORD, offspring a reward from him. Like arrows in the hands of a warrior are children born in one's youth." Psalm 127:3
---