February 2012
Posted:
February 29th, 2012 |
Filed under:
Blog
|
No Comments »
I'm estimating that the temperature  in this city of China is about 10 or 11 degrees. Got a slight fever and me joints are achin'. But what the heck…
Lest I forget the big thoughts on the meeting with Harold Sala and his wife Darlene a few days ago in Manila, I might as well summarize them while they are fresh on my mind.
WISDOM: "Wisdom is a combination of our experiences and failures – rarely do we learn them from safe environments like classrooms. The summary of all wisdom is found in Christ and our day to day relationship with Him (Ephesians 1:8). Experiences and failures without Christ will not produce wisdom."
It's people you meet and share life with where you learn many of your experiences. Bottom line it is still all about relationships. He met Lester Sumrall when he was 12 and witnessed ministry at a young age. He worked under Charles Blair and saw the failures of blind ambition in ministry. Worked with numerous leaders and staff in various parts of the world. Most amazing story was about his friend WangMing Dao - he was teary eyed telling his story and I will never be the same person again after listening to it. I got to get Wang Ming's book Stone Made Smooth. He highly recommended it. Note to self, read Harold's book "Heroes".
How to stay humble? "Life has a way of keeping you humble. At one time a man said. 'You're the guy on tv, right?' It felt good until he said, 'You're Ernest Angley.' Picture the day you walk into the threshold of heaven and you look into Jesus' eyes and you know that He knows exactly what your motives were for doing the things you did."
What are your health secrets? "At 74 I've had two knee replacements but I'm good. We do 5-6 trips a year but I have no plans of retiring – just don't think that's biblical. Best advice – discipline. Watch what you eat – small is always good, exercise – stretch, walk and do some weights. Most important is your motivation to stay healthy should be to glorify God and wanting to finish well."
Building projects: "Don't worry about money, it's a simple thing. If God is behind your project He will provide all that you need." Heard that before but just sounded 10 times better coming from him.
There were more stories and thoughts about marriage, children and grandchildren but me joints are saying – go to sleep NOW!
"Gray hair is a crown of splendor; it is attained in the way of righteousness." Proverbs 16:31
---
Posted:
February 29th, 2012 |
Filed under:
Blog
|
No Comments »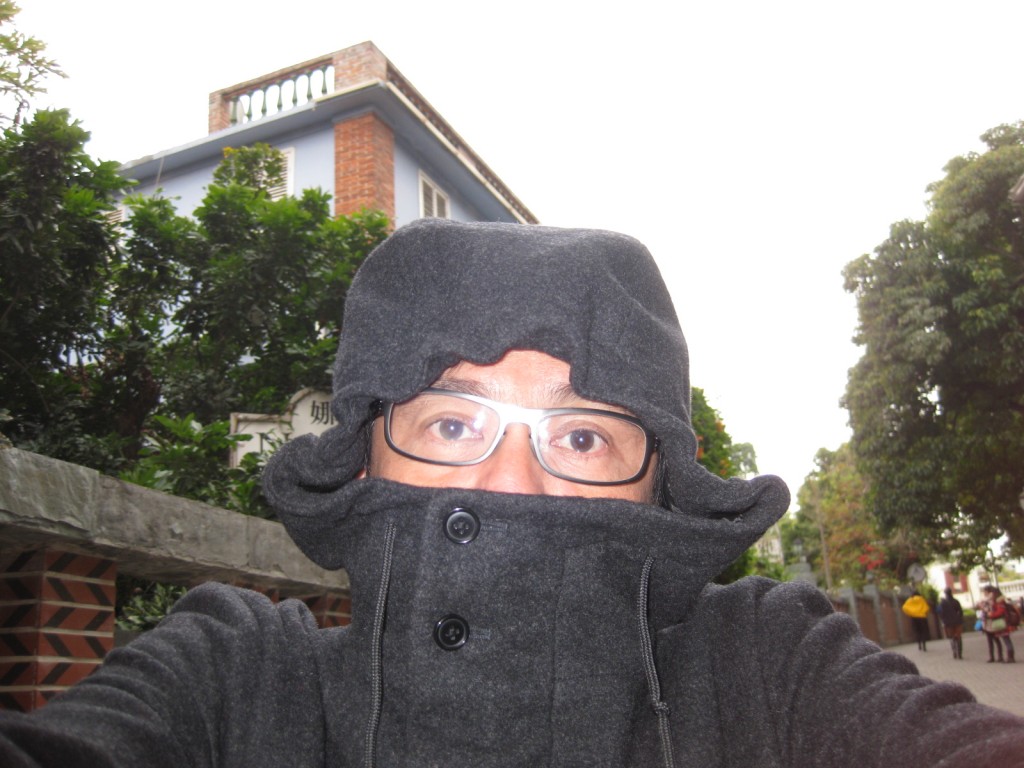 Back in China again. This time to teach and train next generation leaders. God's grace has always met me in y travels but He knows I'm a tropical bred Filipino and I'm freezing in cold, rainy and windy China. Praying that I can do what I have been sent to do here. Thanks everyone.
"Preach the word; be prepared in season and out of season; correct, rebuke and encourage—with great patience and careful instruction. 2Timothy 4:2
---
Posted:
February 29th, 2012 |
Filed under:
Blog
|
No Comments »
Was just in China last month, can't believe I'm back again.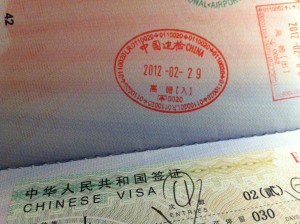 I was planning on writing a summary of my thoughts on Harold Sala tonight but did not expect the temperature to drop to 12 and my sinus allergies to kick in this bad, got a slight fever and a chill. It is cold in China!
I need to turn in early tonight to be up and ready for tomorrow's sessions. Got this shot this year to be with these men and women. Good night Lord.
---
Posted:
February 28th, 2012 |
Filed under:
Blog
|
No Comments »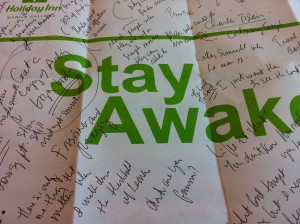 How often do you have the opportunity to have a one on one meeting with a ministry hero who is a well known speaker, accomplished author of over 40 books published in various languages and hundreds of publications?
I had an such an opportunity this morning –  breakfast with Harold Sala. Where he gets the energy for "Guidelines-A Five Minute Commentary on Living" a radio program which is broadcast on over 1000 radio stations around the world and translated in over 15 languages and do the amount of traveling, teaching, ministry, counseling, at 74 years old is worthy of profusely taking notes.
This is the placemat at the Holiday Inn  this morning where I wrote the number of things that were golden from just listening to him. There was so much my notes filled both sides. I just could not punch my iphone that quickly. Over the next few days I will be blogging on the conversation and my take aways from him.
The single most amazing thing you will notice about the man is his enormous passion for Christ dressed in an amazing coat of humility. I could only quietly pray – please Lord let some of that rub off today.
---
Posted:
February 20th, 2012 |
Filed under:
Blog
,
GOD
|
No Comments »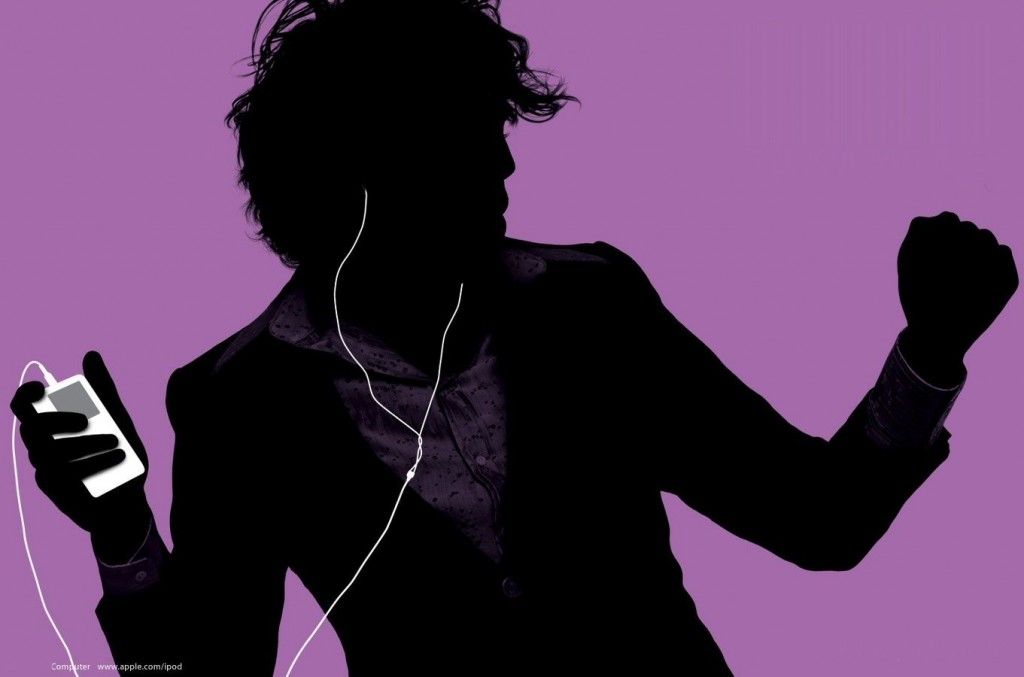 I am no techie. That's why I use Apple products. I agree with Steve Job's thinking that most guys are like me "tech idiots." The good thing about Macs and i-phones, pads and pods is the way they sync. They don't hang or trip you over and lose all your files. All because everything is made simple. Why do they work so well? They're designed to interface seamlessly.
The spiritual life is no different. No doubt Jesus is the bread from  heaven as shown in my two earlier posts about the manna in Exodus. But if this is true, why is it that invoking His name does not always seem to work and make problems go away. That's because of the interface.
"Six days you are to gather it, but on the seventh day, the Sabbath, there will not be any."  Exodus 16:26
Our relationship with Jesus the bread of heaven only works through an interface of rest. That's the reason why God was training the Israelites not to gather manna on the seventh day. They needed to understand that partaking of manna meant resting and trusting in the bread that was more than sufficient. Jesus after all is also the Lord of the Sabbath.
"Come to me, all you who are weary and burdened, and I will give you rest. Matthew 11:28
"Then Jesus said to them, 'The Son of Man is Lord of the Sabbath.'" Luke 6:5
When we learn to rest in Christ, feeding on Him as the source of our eternal provision will always work seamlessly.
---
Posted:
February 16th, 2012 |
Filed under:
Blog
|
3 Comments »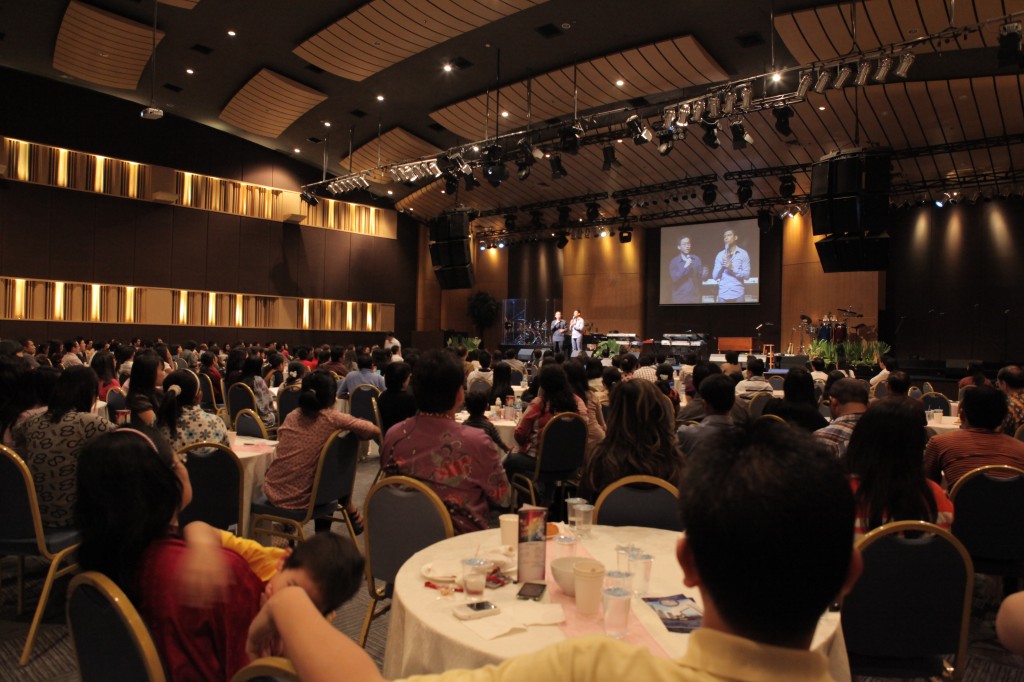 The Morning Star Indonesia Conference started Thursday evening February 16. To me however, the conference is the culmination of a series of trips to Indonesia that started as early as September 2010. The conference marks the completion of what God started back then – slow is indeed fast! Morning Star is the Every Nation church in Indonesia.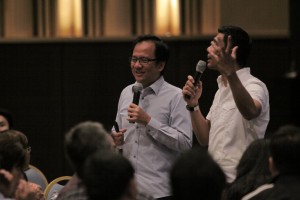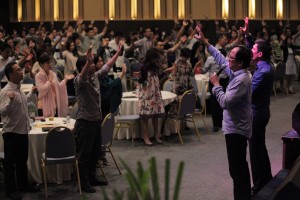 Sessions one and two on Thursday and Friday. My staple message "Discipleship is Relationship."  Beside me is my good friend Pastor Markus Simanjuntak who has been translating for me since the early days in the 1980′s when I would visit this church.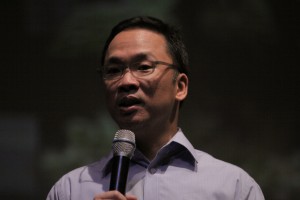 The other members of our team were Michael Paderes (L), Missions Director of Every Nation Philippines and Jojo Henson (R), head of Victory Manila's Prophetic team. Michael explained the EN core value of cross cultural church planting while Jojo prophesied to the national leadership.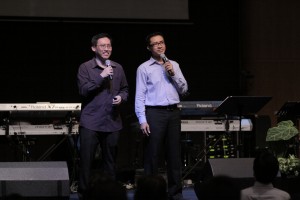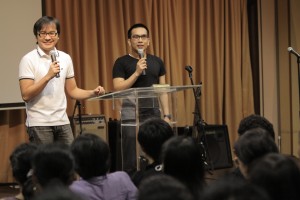 The final part of our team was Timothy Loh, pastor of Eagle Point Kuala Lumpur who spoke on the theology of discipleship and leadership. On the right is my son Joseph Bonifacio who heads Every Nation's Campus Ministry in the Philippines (LifeBox). Joe shared on Every Nation's core value of campus ministry.
Young and old the passion of these believers was contagious. The Spirit of God visibly touched, healed and encouraged these amazing disciples. Can't wait to see what God's about to do with these guys.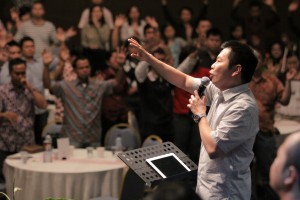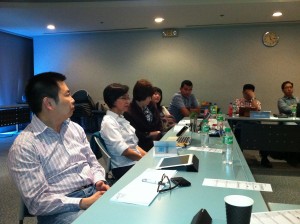 Pastor Jahja Gani – senior pastor of Morning Star Jakarta and head of the Indonesian apostolic team praying for the congregation as the conference ends. On the right the Indonesian team in Manila two days ago to formulate strategic plans for 2012. Now the real work begins. Thanks Lord for all you've done and to You be all the honor and glory!
PS: Please continue to pray for all that God is doing with Morning Star.
"Arise, shine, for your light has come, and the glory of the LORD rises upon you. See, darkness covers the earth and thick darkness is over the peoples, but the LORD rises upon you and his glory appears over you. Nations will come to your light, and kings to the brightness of your dawn." Isaiah 60:1-3
---
Posted:
February 13th, 2012 |
Filed under:
Blog
|
No Comments »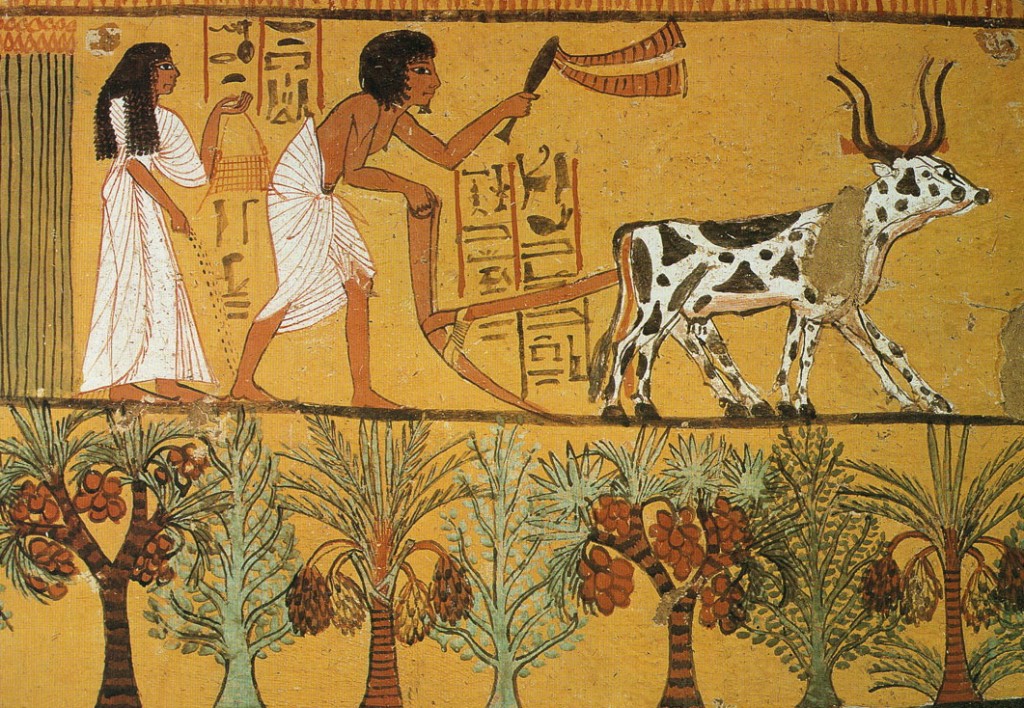 The picture above is from a collection of Egyptian art showing a farmer and the resulting bountiful harvest of his labor. Having been slaves in Egypt for many years, the Israelites picture of provision is not very far from this picture. So much so that when God's manna or bread from heaven appeared they could not recognize it, they could only exclaim – "What in the world is that?"
This so true in my life. Because I am so accustomed to Egypt's ways I often fail to recognize God's provision when it comes. My preset conditions and ideas limit God's ability and plans.
"When the dew was gone, thin flakes like frost on the ground appeared on the desert floor. When the Israelites saw it, they said to each other, "What is it?" For they did not know what it was." Exodus 16:14-15
I have been nurtured with a mentality of a slave that says only by plowing and man's sweat can provision be had. This was the problem of the Israelites and often mine. Yet God says I Am your provision.
Manna was God's provision from heaven – literally it was heaven's bread. God knew that man's deepest and most urgent need is not  physical food and provisions but the bread of life – Jesus.
"Very truly I tell you, it is not Moses who has given you the bread from heaven, but it is my Father who gives you the true bread from heaven. John 6:32
Sadly like the Israelites we often fail to recognize what we really need. At 54 I am increasingly realizing that I need very little food and provisions. A doctor friend pointed out that for my height and age I need a mere 2100 calories a day to survive. The equivalent is 3 big Macs. Not very much. But what I need everyday is Jesus – God's daily provision for me from heaven.
"The Israelites did as they were told; some gathered much, some little. And when they measured it by the omer, the one who gathered much did not have too much, and the one who gathered little did not have too little. Everyone had gathered just as much as they needed." Exodus 16:17-18
Like manna – the bread from heaven – the fascinating thing about Jesus is whether you gather too much or little it is more than enough. You never have too much or too little of Him.
Thank You Lord that I no longer have to think like a slave and live like one. You are my greatest provision and the One who provides for everything else I need.
---